Brand-new infrastructure company Wyre starts building the network of the future
Scoop: first fiber network connection to address/household in Mechelen
Wyre will bring 78% of Flanders and parts of Brussels and Wallonia on optical fiber network: bulk of work done by 2029
Mechelen, 3 July 2023. Today, Wyre connected the first fiber to an address in Mechelen. ​ This was done by Micha Berger, CEO of Wyre, and titular Mayor of Mechelen, Bart Somers. Together, they 'patched' an existing fiber network connection to a household in Mechelen. The new infrastructure company started operations today, building on Telenet and Fluvius' existing networks, which are already 90% optical fiber. With the new partnership between Telenet and Fluvius, the final phase to extend the fiber network to homes and businesses can now also start. Wyre's ambition is to have already built most of its fiber-optic network by 2029. ​ To provide the same future-proof internet to rather rural areas without fiber, Wyre envisages upgrading the existing Hybrid Fiber Coax (HFC) network there.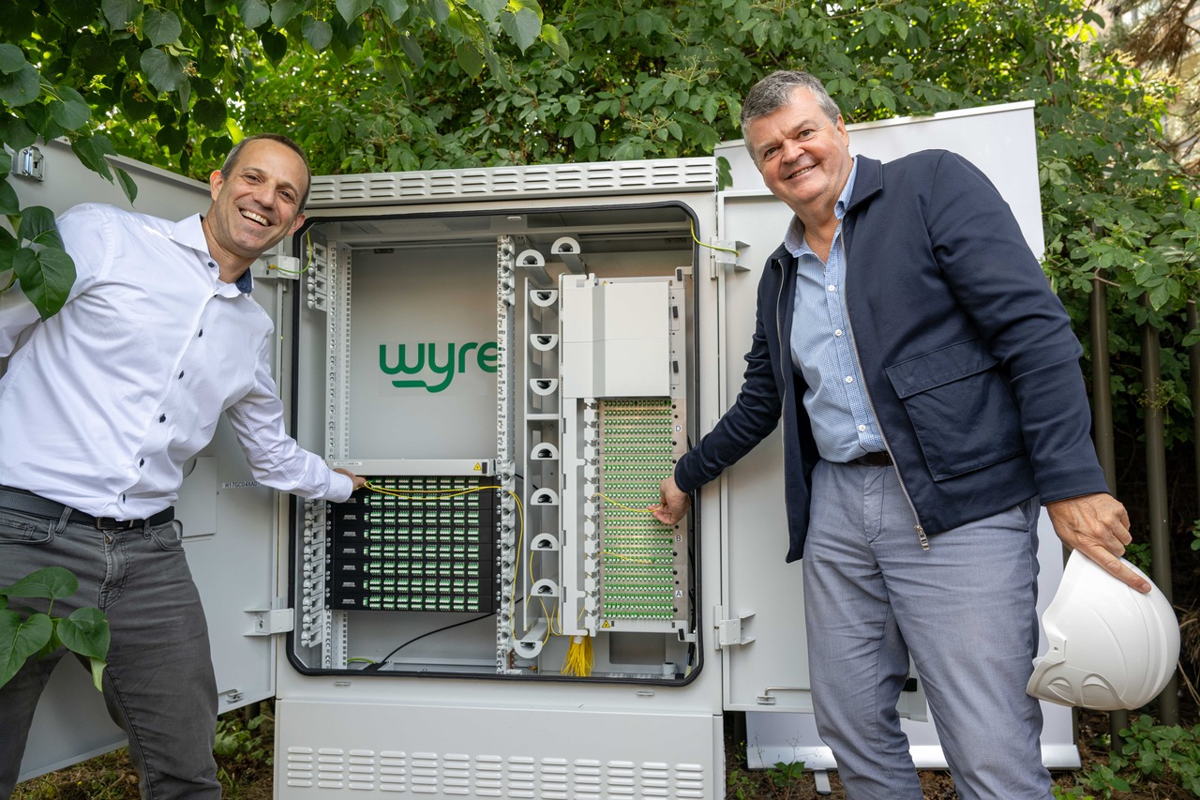 Following the closing of the transaction between Telenet and Fluvius on 1 July 2023, in which Wyre became the legal owner of both parties' networks, the new infrastructure company is off to a flying start. The city of Mechelen will get a first: Wyre's first fiber cable was connected to a household just today.
"That Wyre chooses its new home base of Mechelen to make the first connection between fiber and a household is positive news. Data traffic plays an increasingly significant role in the daily lives of both companies and residential customers. Mechelen is and will continue to be the place for sustainable technological innovation." - Bart Somers, Mayor of Mechelen
This also marks the first step in rolling out the network of the future. Customers on Wyre's network can already use at this moment a network sending data at 1 Gigabit per second (Gbps). With the network of the future, this will eventually be as high as 10 Gbps. A major advantage of an optical fiber network is that the bandwidth is virtually unlimited. A fiber network uses light to transport data. This ensures a super-fast connection without delays, something that online gamers or businesses that need to send heavy data files, for example, will greatly appreciate.
"We are all using more data, just think of what we all do at home via our internet: homework, home automation, streaming, online banking, and gaming. And the digital transformation in the rest of society also requires a data network without limits. Significant investments have been made in a high-performance network in recent years, 90% of which already runs over the fiber-optic network. Wyre is now taking the final step for the network of the future. As a matter of fact, that is an open network. We are already assured that two major Telecom operators, Telenet and Orange, will use our network. But over time, there is room for new collaborations." - Micha Berger, CEO of Wyre
Fiber along 100.000 homes by 2023
Today, Wyre already has a footprint with 120,000 'homes ducted'.1 This corresponds to almost 800 km. ​ This means that infrastructure is already ready to blow fiber into ducts in several places in Flanders without opening up the streets. By the end of the year, Wyre aims to have a fiber-optic network ready to connect 100,000 'homes passed' 2. The official launch is today in Mechelen and in the meantime Wyre is also in discussion with several cities and towns where it will roll out fibre in the streets. The entire construction of its own optical fiber network involves an investment of up to maximum EUR 2 billion. Providers will then be able to offer fiber products and services – to all so-called 'homes connected'3, but it will be up to operators' customers to decide whether to switch.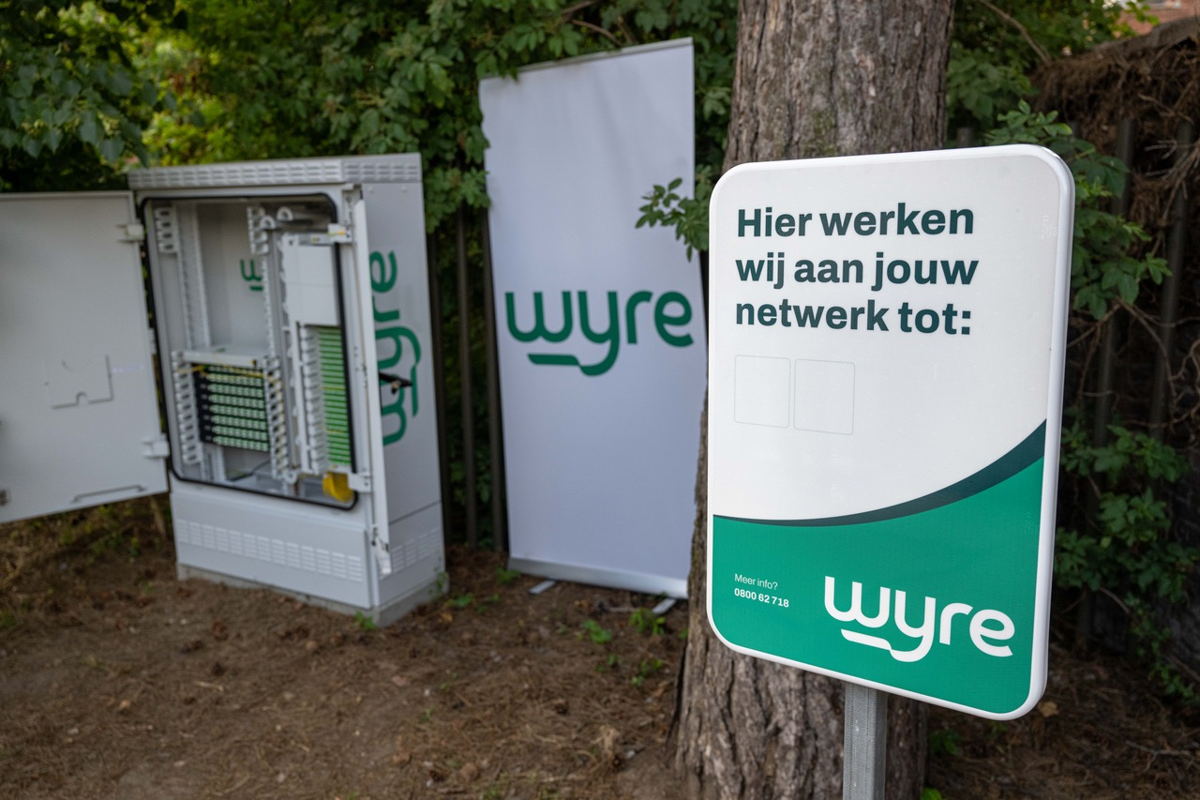 Wyre aims to have around 70% of households in Flanders and parts of Brussels and Wallonia connected to fiber by 2029. By 2038, 78% of Flanders and parts of Brussels will be on optical fiber. For areas where fiber deployment is very cost-inefficient, Wyre will continue to upgrade the existing HFC network through the introduction of the latest cable standards (such as Docsis 4.0), which will eventually also allow fiber speeds of up to 10 Gbps.
The difference with other telecom providers, who are now also rolling out fiber optics, is that, thanks to the combination of the fiber-optic network and an HFC network, operators using Wyre's network will be able to offer everyone in Flanders the best network much faster. We already have speeds of at least 1 Gbps everywhere today, while no one will have to be forcibly disconnected from networks that are too old or can no longer be upgraded.
Currently, Wyre has wholesale contracts with Telenet and Orange Belgium to commercialise internet products and services. ​ ​ Both companies will later announce when and on what terms they will launch these services and products. Wyre also remains open to other operators to provide access to its network based on commercial wholesale agreements.
About Wyre
​Wyre is building the network of the future. It is doing so by strengthening the existing network while building the remaining 10% of the fiber network right into people's homes. In this way, Wyre guarantees the best connectivity for everyone, with internet speeds of up to 10 Gbps. All telecom operators can use the Wyre network to prepare Flanders, and parts of Brussels and Wallonia, for the digital future. ​
1 Homes Ducted: houses along which infrastructure runs in which optical fiber can be laid without any further works having to be done in the street. ​
2 Homes passed: houses along which infrastructure runs in which optical fiber is already installed. To be connected to the network, only the connection to the house is needed (via the facade or underground).
3 Homes Connected: homes along which the infrastructure runs where the optical fiber is installed and where the connection to the home is also already in place.