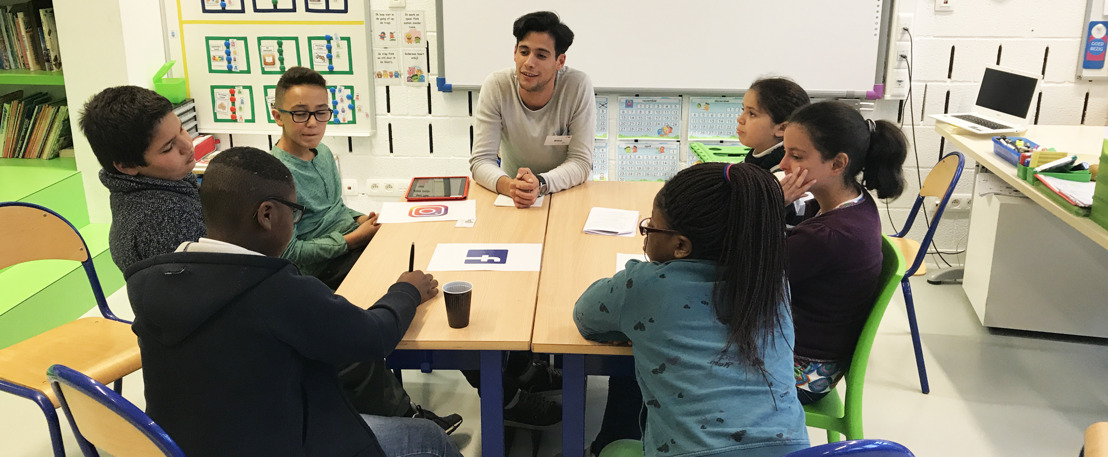 Giving Brussels community initiatives for disadvantaged youngsters a forum
The Belgian capital was shaken up by rioting youngsters on several occasions in the past few weeks. "A group of young people is living on the margins of society. Rioting is their way of making their voices heard," Aziza El Miamouni of the Molenbeek neighbourhood academy told De Standaard. It raises questions about the kind of support those young people are getting today. Are they being left to fend for themselves? What can we do on societal level and as a company to improve their prospects?
It is an issue we at Telenet want to help address. As a digital player, we want everyone to feel part of the digital world. This is no straightforward matter for youngsters from disadvantaged families. In an economy where digital skills are becoming increasingly important, a lack of those skills seriously diminishes future prospects. Besides high-quality education, an extensive network is needed of low-threshold community initiatives that stimulate and encourage young people to develop their competencies and skills.
TADA, BeCode, Youthstart…
Don't get me wrong. Brussels already has dozens of organizations that have been investing in underprivileged youngsters for some time, such as VZW ToekomstATELIERdelavenir (TADA), a Saturday school that lets young people between the ages of 10 and 14 explore different areas of the labour market, including the world of ICT and telecommunications.
Then there is BeCode, a professional coding school that trains young people, irrespective of social background or previously acquired knowledge, to become professional programmers. In that way, they kill two birds with one stone: tackling youth unemployment and countering radicalization. For that purpose, the BeCode team works closely together with employment agencies such as Actiris, Forem and VDAB to help as many students as possible on their way to the labour market.
Youthstart, an international organization, kindles the enterprise of young people aged between 15 and 30 who need extra opportunities to develop socially or professionally. In practice-based and interactive courses, these young people develop skills such as creative and problem-solving thinking, working with others, and delivering persuasive presentations.
Inclusion and cross-pollination
TADA, BeCode, YouthStart: these are all praiseworthy community initiatives that work together with volunteers to build the talents of thousands of youngsters in the disadvantaged areas of Brussels. Sadly enough, their work is still all too often hidden, and is overly dependent on subsidies and donations from individuals, foundations and businesses. This makes them highly vulnerable, whereas their work is of tremendous value to society and has a real tangible impact.
These small-scale organizations try to reach as many teenagers from immigrant backgrounds as possible, or youngsters who have momentarily lost their way. This small-scale setup works, precisely because those schemes are deeply anchored in the Brussels community and are driven by the dynamic of that local community.
What those organizations need is to work more closely together with each other and with other organizations from which they can learn new insights, and vice versa. Take for example BeCentral, a digital hub in the heart of Brussels that brings together several organizations that work around digital inclusion and digital transformation. BeCentral generates cross-pollination between the various training schemes that operate there, and at the same time lowers the threshold for vulnerable youngsters to 'look over the fence': at BeCode, young people can train to become professional web developers, while  discovering the activities of Coderdojo Belgium, which organizes  at Be Central initiation classes in programming for children. This can inspire them to become Dojo coaches themselves. This demonstrates the power of cooperation and cross-pollination.
Smooth access
To strengthen the sustainable growth of civil society organizations, however, there is also a need to invest in structural partnerships with government agencies such as employment organizations and private-sector partners to ensure the smooth access of vulnerable young people to professional training schemes and the labour market. By embedding these local initiatives more firmly in the socioeconomic field and giving them more support, these community initiatives have a better chance to succeed.
As a company, it is not only important to give financial support to community initiatives, but especially to take up an active role within those organizations by helping to define the outlines of the programme as a member of the management board, by asking own staff members to help on a voluntary basis, or by pursuing an inclusive recruitment policy that is open to vulnerable young people. Another way is to open up the company's own expertise and stakeholder network to civil society organizations with which the company works together. This is something we at Telenet endorse, like many other businesses and private institutions that share the same ambition and vision.
Together we can make sure that young people are given every opportunity to develop their skills in our digital society. If we succeed in kindling their motivation and enterpreneurial skills, and giving them a place 'in' society rather than on the margins, these youngsters will be recognized for their talents and no longer be branded as perpetual troublemakers.
Links: