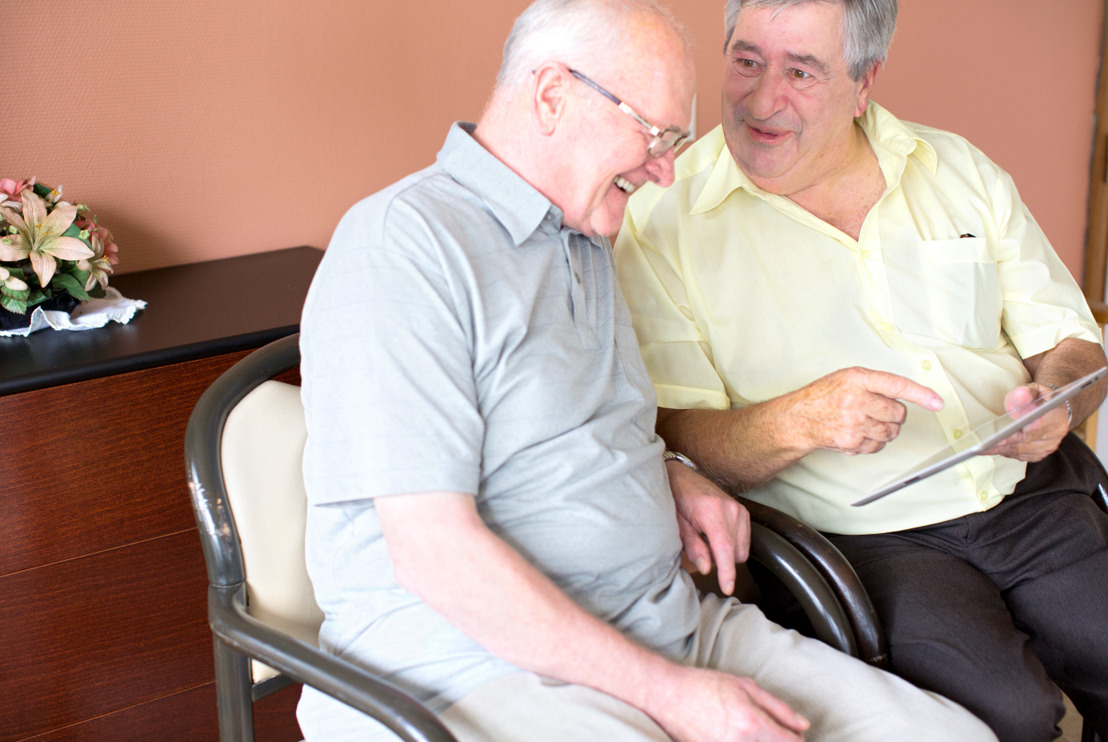 Grandparents got hooked on video calls thanks to coronavirus
Breakthrough for video calling: 3 out of 4 (75%) Belgians made video calls during the lockdown
Almost one in two (44%) discovered new apps to keep in touch
Belgians continue to be epicureans: a whopping 18% shared a digital pint with friends during the lockdown
Since the corona measures were implemented, three out of four Belgians have already video-called family, friends or acquaintances. This is the conclusion of a large-scale study carried out by Indiville among more than 1,500 Belgians, commissioned by Telenet. Grandparents and their grandchildren and parents with children who no longer live at home (61%) accounted for the majority of all video calls during the lockdown. We also came up with plenty of creative solutions to keep a social life: we enjoyed digital cocktails with friends (18%) and one out of five (24%) respondents was even able to continue leisure activities thanks to the Internet.
Despite the restrictions on social life, which meant that we could not see each other or that visits were limited since the corona measures took effect, many of us looked for digital solutions in recent weeks to stay in touch. The corona crisis prompted a major breakthrough for video calls: a whopping 75% of the Belgian population video-called family, friends or acquaintances.
Almost one in two (44%) learnt about and started to use (Internet) apps for the first time since mid-March. Zoom and Teams were the big revelations of this crisis, among others. Twenty percent of respondents said that they used Zoom for the first time while another 13% started to use Teams since the lockdown. The younger the respondents, the more frequently they use these new applications (56% in the 18-34 yo category), but the figures are also relatively high in the older age categories: 38% in the 50 to 64 yo category and 34% in the 65 to 79 yo category.
Video chats with children and grandchildren
The majority of video calls (61%) was made by parents with children who no longer live at home. Grandparents also indicated that they mainly used video calls to communicate with their grandchildren and see them (61%). The older the children, however, the less inclined respondents are to use video. Adult respondents indicated that they mainly kept in touch with their grandparents by phone (47%).
To reach other family members or acquaintances, 56% preferred messaging, such as texting or social media. This increased to 64% when contacting good friends. Here too, however, video calls are gaining more ground, with 44% for calls to family members or acquaintances and 47% for good friends. Some Belgians prefer to avoid video calls, however. Of the 25% of respondents, who did not make any video calls, 47% indicated that they did not see any need for this. 33% said they didn't like video calls and 16% found it very strange to communicate with family and friends in this way.
Epicureans and online workouts
Even though it will still be a while yet before we can meet up in restaurants and cafés again, Belgians continue to be real epicureans. Almost ten times more people (18%) joined friends for online cocktails for the first time, i.e., video-calling friends while having drinks or snacks. Prior to the corona crisis, only 2% of the Belgian population used to do this.
Thanks to the Internet, more than one in five (24%) respondents was able to pursue leisure activities during the lockdown. Ten percent attended online meetings of clubs of which they were a member, whereas 4% already did this prior to the lockdown. Some potential newcomers since the corona crisis: 5% indicated that they did online workouts, while 4% attended online music, dance or drama classes or rehearsals. The question remains whether they will continue to do this in the long term.
More time online
As our social life was restricted by the corona measures, 64% of the respondents indicated that they spend more time online, as was to be expected. On average, they spent 5 hours of their day online, although 18 to 34-year olds spent the most time online, averaging 7 hours. Another 13% even bought additional screens or data services.
Telenet spokesperson (only for journalists)