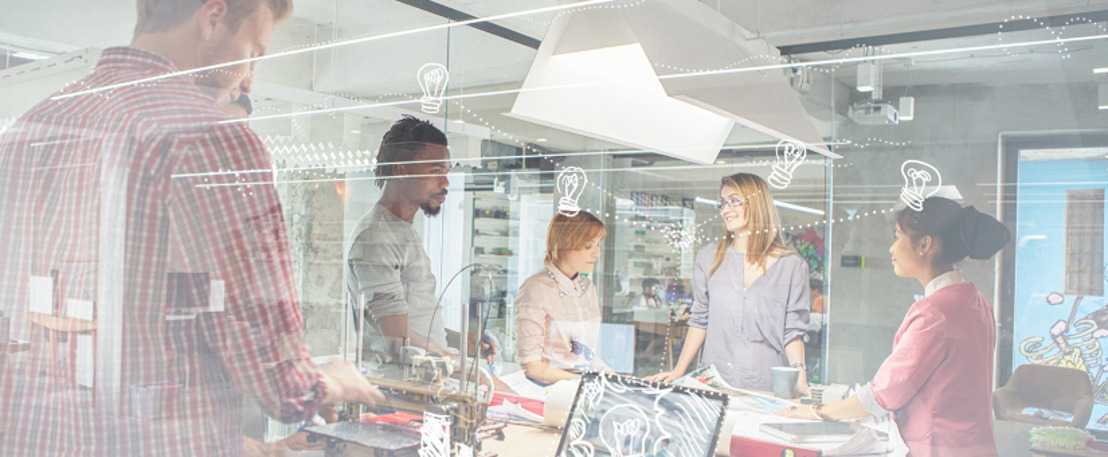 It Takes Two to Tango: Large Companies and Start-Ups Must Be More Daring
Our start-ups in the telecom, media and entertainment sector struggle with sustainable growth and are in need of an extra boost. That was revealed this week by a study we commissioned together with Startups.be. Half of the Belgian start-ups in our sector aren't growing as fast as they should. One of the causes is the weak relationship between start-ups and large companies. And that's a shared responsibility, with challenges for both the young entrepreneurs and the large companies.
Incubators, accelerators, business angels, government tax measures, the Telenet Kickstart programme… The start-up landscape in Belgium has seen major investments in recent years. And with success: an ever-growing number of Belgian start-ups are doing well, both at home and abroad. Still, for many of these young companies, sustainable growth remains challenging. Half of them are only maturing by 10 to 20% annually, when by definition start-ups ought to be growing by 100% or more.
Why is their growth so slow? Is their ambition at fault? Or are we, the large corporations, the cause, as investors or as clients? The research shows that we don't speak the start-ups' language, and vice versa.
They're onto something there. At Telenet, we regularly receive starters pitching their product or service. However, we've noticed that these pitches often aren't very well-prepared, or adapted to our company's needs. Many young starters think developing a new technological solution is the main thing, but innovation is what it's really all about: new business models, new concepts, new market needs. That's what corporate clients are searching for, that's where investors want to put their money. Only innovation leads to growth.
The study also revealed that start-ups lack ambition. They don't aim high enough and often suffer from a 'parochial attitude'. Is it due to our culture? Are Belgian start-ups sufficiently entrepreneurial?
However, blaming the entire disconnect on the start-ups would be unfair. After all, we ourselves have our shortcomings too, both as corporations and as investors. When start-ups say we're too conservative, they have a point. Too often, we suffer from a 'culture of control', wanting to own our 'resources' ourselves, including the people and the technology. It's also true that our decision-making is too slow when it comes to major investment projects, for example. That's often a mismatch for start-ups' rapid pace and flexibility. Too often, they get lost in the internal processes of large corporations. Furthermore, corporate culture is currently frequently one of risk aversion and playing things overly safe. To some extent we're in the same predicament as start-ups: we need to become more daring.
The research was a wake-up call for us. Through Telenet Kickstart, we've made a major start already. We advise start-ups during their initial development and internationalisation. However, saying some issues still need to be addressed is an understatement. We must further increase our commitment to coaching and advising start-ups through participation in incubators and accelerators such as StartIt KBC and IMEC iStart.
At Telenet, we employ an open culture of innovation, focused on collaboration with corporations, academic institutions and start-ups/scale-ups as well. We have created an environment providing a range of opportunities for young companies to develop new concepts and products together with us. Moreover, we open up our extensive network of customers and business partners to promising entrepreneurs in the growth phase, with strong and attractive products. One example is Spencer, which developed an application to improve productivity and comfort at work. We invested in Spencer and are now working to implement their product within our own organisation. We also alert our own corporate clients to Spencer's existence, if we think they might find this mobile workplace assistant of interest. Collaboration is certainly possible as you can see!
We just need to become more daring. Daring to jump, and preferably a lot faster, even if we're not completely sure that one investment will succeed. We ask this of the start-ups as well: Dare to aim beyond those limits. Let's be more daring, together. For it cannot be denied that our economy is in need of innovation. It would be great if that innovation were home-grown.
Kenny Henderyckx
New Business & Start-up Acceleration Telenet