TELENET/BASE HAS ULTRA FAST MOBILE NETWORK
BIPT telecom regulator report: mobile networks in Belgium are getting better and faster every year
Monday, January 11, 2021 - Telecom operator Telenet is satisfied with the results of the annual survey into the quality of the mobile networks by the telecom regulator BIPT1. The report, which was released today, shows that Telenet/BASE achieves the best results in terms of download speed. Telenet also obtains very high score when it comes to the sound quality of a telephone call, namely voice.
​
Thorough survey
As is customary every year, the telecom regulator BIPT subjects the Belgian mobile networks to a thorough survey. With a ski box full of technical equipment and a few smartphones on the roof, two cars crossed the entire country in September and October (2020) last year to examine the surfing and calling experience of the Belgian consumer. They passed through dozens of major cities, rural areas and highways in Flanders, Wallonia and Brussels, covering a total of 11,000 km and 250 hours. The experts carried out no fewer than 7,800 telephone calls and 60,000 data tests per network. To ensure the reliability of the tests, the investigated locations were not communicated to the operators in advance.
Best results for Telenet/BASE regarding download speed
The drive-by tests showed that the mobile network of Telenet/BASE has not only become faster for downloading, but is achieving the best results in terms of download speed with an average download speed of 99.5 Mbps, compared to 93 Mbps two years ago. According to BIPT, the average download speed with Proximus is 74.1 Mbps, and 68.3 Mbps with Orange.

​
1https://www.ibpt.be/file/cc73d96153bbd5448a56f19d925d05b1379c7f21/275f007964d6d9d3785b18a21ba9e4da1bc04d69/CP_Drive_test_campaign_results_2020_2021-01-07.pdf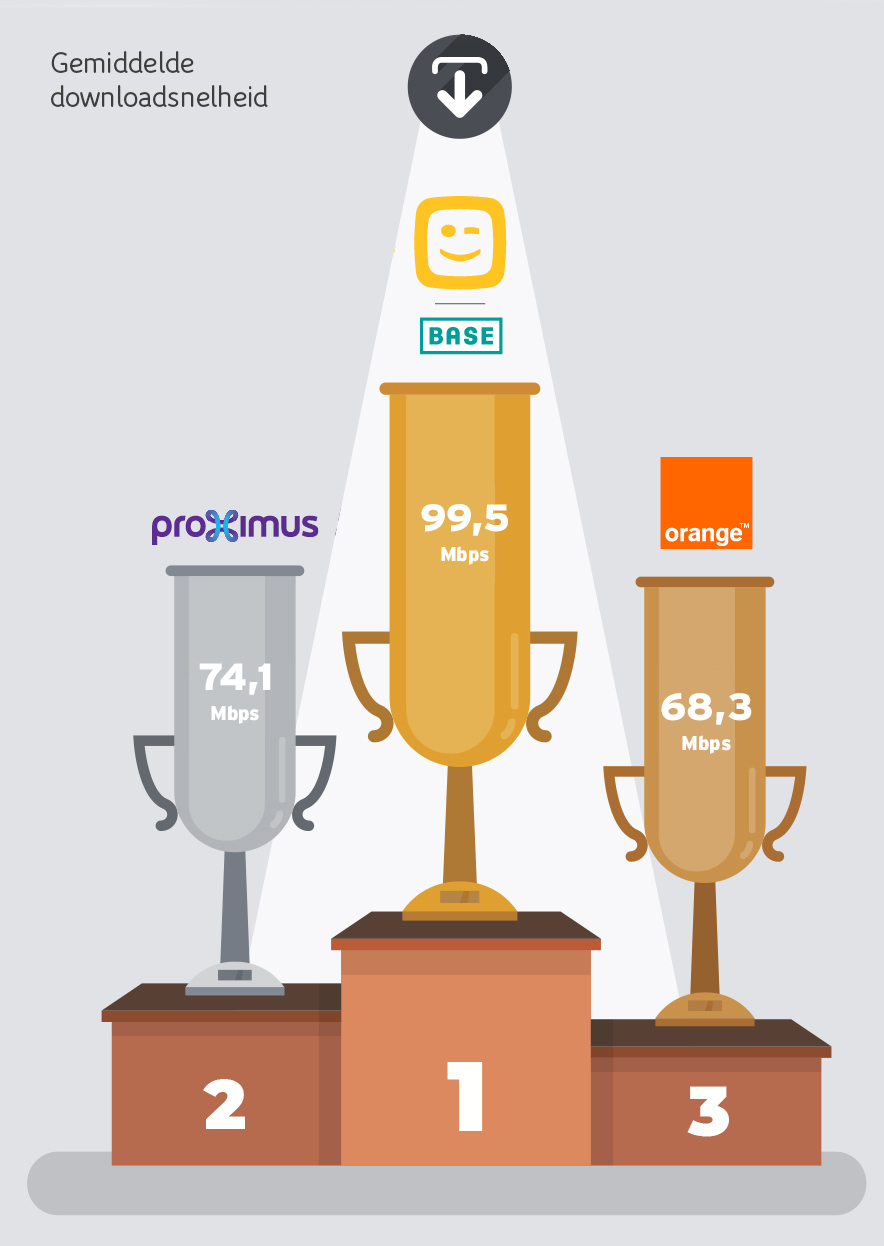 The average upload speed with Telenet/BASE is now 24.1 Mbps. This was 22 Mbps in 2018. The Telenet/BASE mobile network has therefore also progressed in this area.
Quality of the conversation
BIPT also measures the quality and experience of telephone calls in our country: for example, the number of calls that are successfully started and ended. Anyone who successfully starts a conversation with Telenet/BASE has the least chance of the telephone call being interrupted. 99.9% of the calls at Telenet/BASE run flawlessly. This figure is 99.8% with Orange, and also with Proximus.
With regard to the voice quality of the telephone conversation, BIPT uses a scale from 1 to 5, i.e., from poor to very good. Telenet/BASE and Orange each achieved a score of 4.4. Proximus achieved a score of 4.3.
"Telenet is really very satisfied with these results. We have, of course, invested heavily in technology in recent years, and those efforts are now paying off. And, naturally, we also intend to continue to do this in the coming years. The aim is to continuously make our network faster and more efficient, for both private individuals and companies", said Micha Berger, Chief Technology Officer at Telenet.
All data can be consulted at: bipt-data.be.