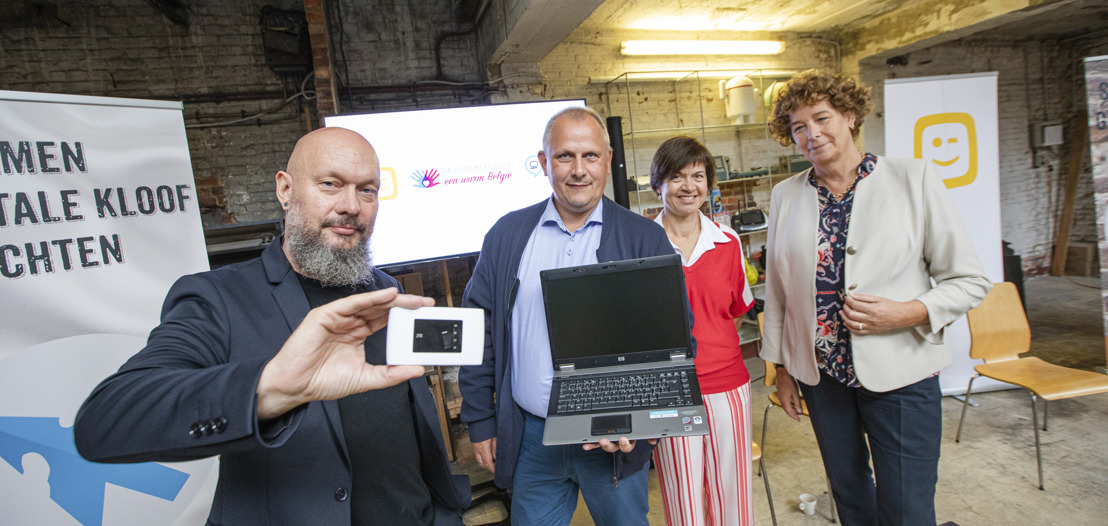 Telenet expands project on basic internet for vulnerable families together with Ondernemers voor een Warm België and Link in de Kabel
In addition to an internet connection, laptops, and basic digital skills training courses for 6,000 vulnerable families thanks to the support of Federal Minister for Telecommunications Petra De Sutter
One year after the launch of basic internet at 5 euros per month for vulnerable families, Telenet is expanding the programme with a stronger product
In cooperation with Ondernemers voor een Warm België, it will collect 6,000 second-hand laptops, prepare them for reuse, and distribute them via social organisations and poverty associations
Civil society organisation Link in de Kabel supports the programme through training courses in basic digital skills
One-million-euro investment in hardware and training courses: Federal Minister of Telecommunications Petra De Sutter allocates 500,000 euros and Telenet finances the other half
Exactly one year after the launch of its 'Essential Internet' pilot project, Telenet is shifting up a gear with its basic internet programme for vulnerable families and single people. Through social organisations such as the OCMW (public welfare centres), poverty associations, and organisations committed to digital inclusion, Telenet brought basic internet at 5 euros per month to vulnerable target groups via various test projects. Telenet is now expanding the offer and is launching a second product at 10 euros per month for even more intensive internet use, such as streaming. Because digital inclusion only truly starts with access to the internet, Telenet entered into a partnership with Ondernemers voor een Warm België (OVWB; Enterprises for a Warm Belgium) to collect laptops that are still usable, put them to good use, and then distribute them via poverty organisations. Telenet and OVWB want to help 6,000 vulnerable families obtain a free laptop. The organisation Link in de Kabel supports the provision of training courses in basic digital skills. Federal Minister of Telecommunications Petra De Sutter allocates 500,000 euros for the hardware and training and Telenet finances the other half of the project.
Looking up information online, doing homework, looking for work, or keeping in touch virtually with friends and family: it seems like the most normal thing today, but that couldn't be further from the truth for 10% of Belgian households today. They still don't have access to the internet at home, according to a Digital Inclusion Barometer by the King Baudouin Foundation (June 2020). And then came COVID-19, which made the digital divide in our society even more apparent. Because while the COVID-19 pandemic forced us to shift up a digital gear, certain groups were simply cut off from society.
Thorough evaluation
That's why Telenet launched 'Telenet Essential Internet' a year ago. The programme helps vulnerable families and single people who have no or very limited internet access to receive basic internet at a fixed rate of 5 euros per month. Applications are made through social organisations such as the OCMW, poverty associations, and/or organisations committed to digital inclusion. Telenet launched the programme in October 2020 as a pilot project in cooperation with the OCMW and local civil society organisations in Mechelen and Ghent. Together with the various partners, the telecom operator wanted to make a thorough evaluation in order to roll it out on a larger scale in Flanders and Brussels in a subsequent phase.

FIVE and TEN
Vulnerable target groups may have fewer financial resources, but that doesn't mean they have fewer internet needs. The current solution at 5 euros per month with a download speed of 5 Mbps and a volume of 20 GB therefore only seems relevant to a limited group. It's ideal for single people and families who don't have internet currently and want to use it in a limited way, for example, to follow lessons online, do homework, send emails, look up information, keep records, or contact friends and family via social media. But the basic internet is insufficient for families or students who watch a lot of videos on YouTube, stream series, or play games regularly. ​
That's why Telenet is raising the volume of basic internet to 50 GB at 5 euros per month. In addition, there will be a new product at 10 euros per month with higher speeds and capacity. The products are named FIVE and TEN, with which Telenet also immediately made a promise never to increase the price. The TEN offer is aimed at vulnerable families and single people for whom current subscriptions are either unaffordable or too heavy a burden on the budget. Those who go beyond the bundle will not be charged extra, but can continue using it at a lower speed. The needs of the users will also be continuously evaluated.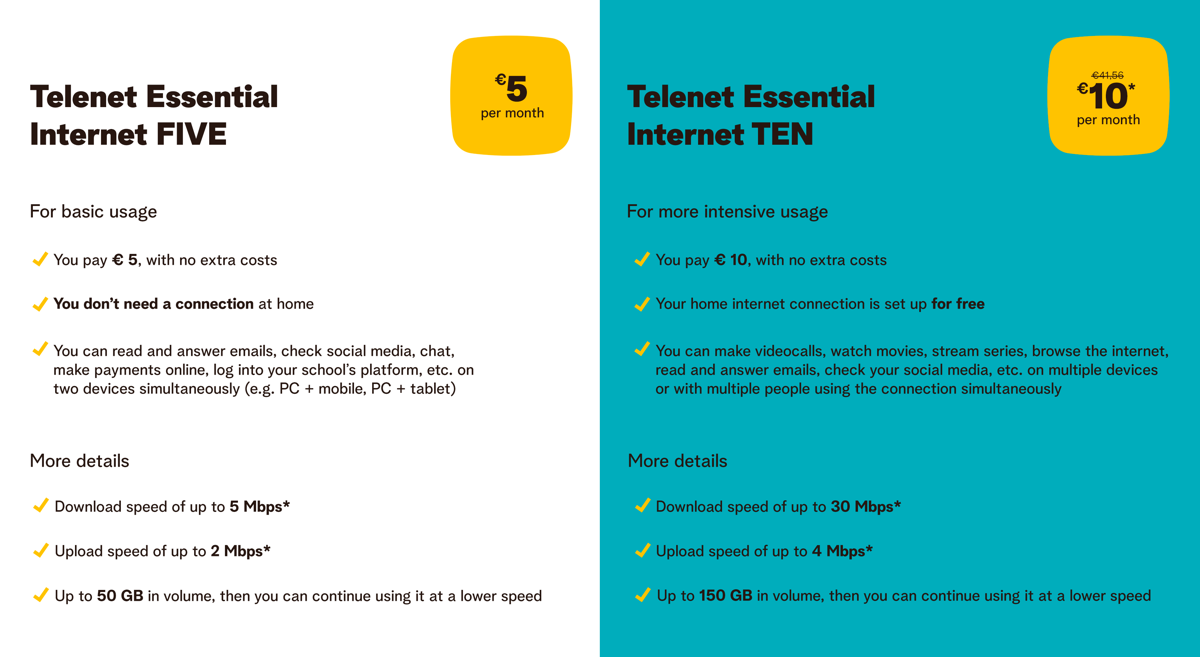 The process for cooperation with recognised organisations and associations working in the field of poverty reduction and e-inclusion was also automated and improved. They can easily find more information and sign up as a partner for 'Telenet Essential Internet' via a digital platform. The social organisations are responsible for informing clients who have no or limited internet access at home about Telenet Essential Internet. Then, together, they look at which formula best suits their personal situation. The social organisations therefore play an important role in the selection and referral of end users. The partners who participated in the pilot project are already enthusiastic.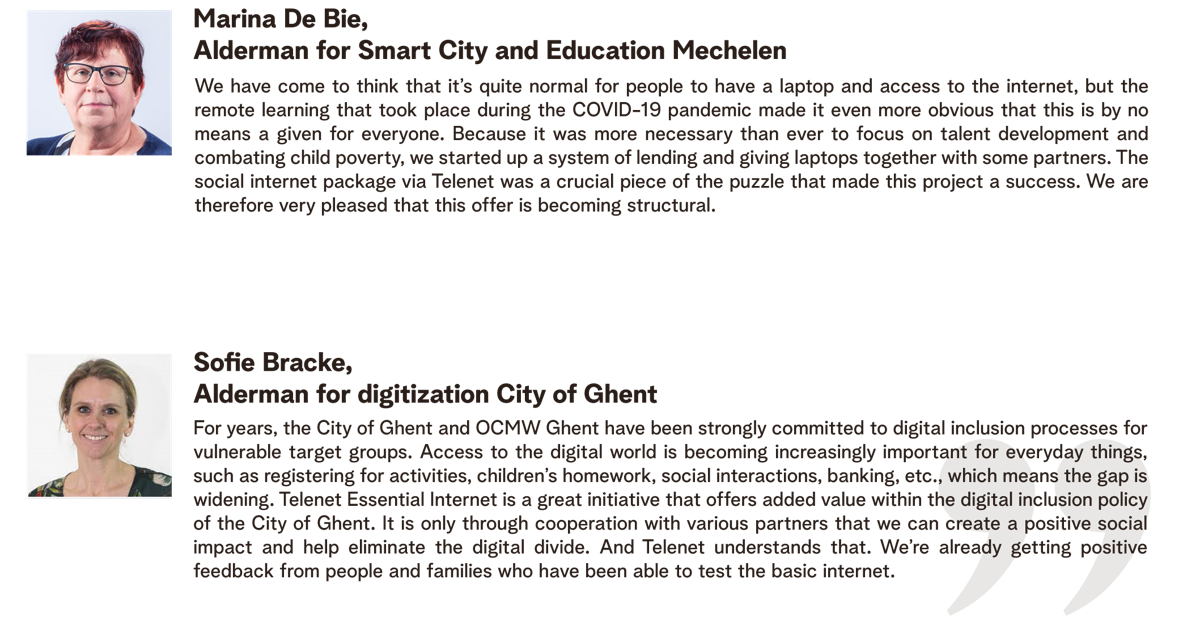 6,000 families receive laptops and social workers attend 'train the trainer' sessions
However, digital inclusion does not stop with internet access. After all, hardware, such as laptops, and strengthening basic digital skills are also needed to make it possible for vulnerable families and single people to participate in an increasingly digital society. Last year, Ghent University published a study on ICT ownership and ICT difficulties among people living in poverty. This shows that 20.7% of people with an income below the poverty line (< 1,250 euros net per month) do not have a personal computer, laptop, or tablet because they are too expensive. About 30% often have questions or experience problems when using a computer or smartphone. Among the non-income poor, this is about 7%.
That's why Telenet wants to expand the 'Essential Internet' programme with an offer of quality second-hand laptops and basic skills training courses. The company works together with the non-profit organisations Ondernemers voor een Warm België and Link in de Kabel, two civil society organisations with a great deal of expertise and experience in the field of digital inclusion, supported by a broad local network of partners. ​
Ondernemers voor een Warm België has been collecting still-usable laptops from families and companies for some time now, refurbishing them, and then distributing them via local poverty organisations. They, in turn, ensure that the laptops end up where they are needed most. The non-profit organisation already has more than 200 collection points and can count on the help of JBC, Standaard Boekhandel, Club book shops, Qresellers, and the Limburg thrift shops that make their premises available. The Telenet points of sale and the independent Telenet Centres are now being added. In the course of the next few months, the non-profit organisation expects to double the number of collection points with new partners.
Under the slogan 'Turn your hardware into Heartware', Telenet and Ondernemers voor een Warm België will collect 6,000 second-hand laptops through the various points starting in October. But they'll also look to the business sector. Telenet will be donating 700 and Telenet Business will also help through its network to actively encourage companies to donate used laptops. Ondernemers voor een Warm België does the same in its network of partners and customers together with partners EuroSys, Cegeka, CoderDojo Belgium, and Tech Data. Once the laptops are ready for use, they will be distributed to vulnerable families throughout Flanders, Brussels, and Wallonia via local agencies and inclusion organisations. ​
Link in de Kabel reinforces this offer with 'train the trainer' sessions on digital skills for social workers active in local agencies and inclusion organisations. The non-profit organisation has a long track record in strengthening social inclusion by making socially vulnerable children and young people digitally literate and resilient.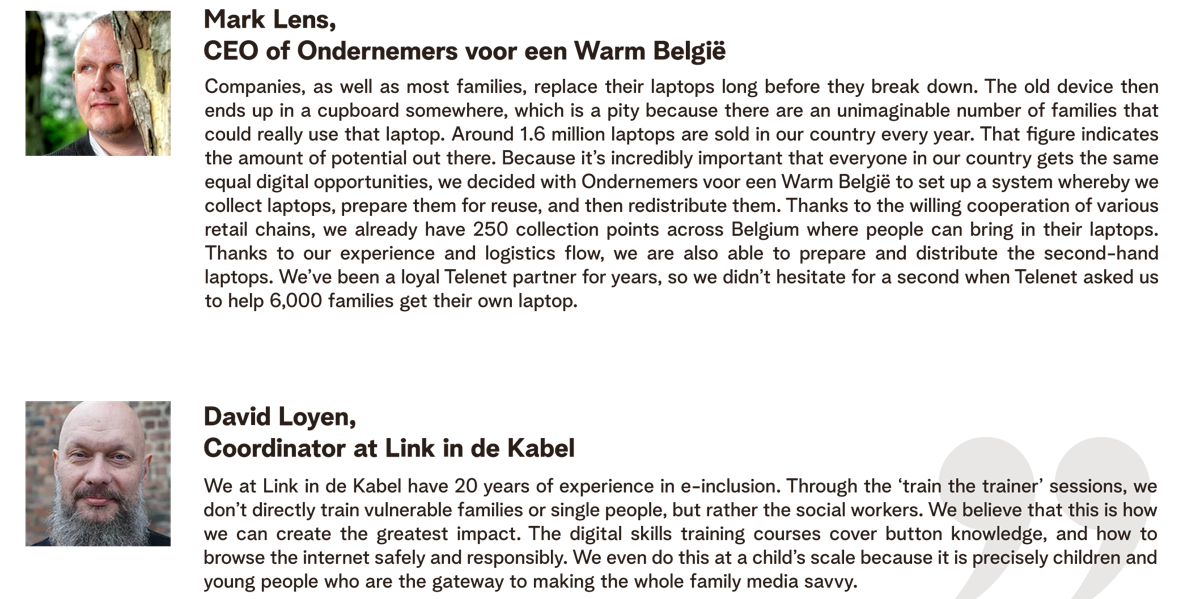 The total cost of collecting, preparing, and redistributing the laptops, together with scaling up the 'train the trainer' sessions, comes to one million euros. Telenet itself is investing 500,000 euros and can count on subsidy support for the other half from Petra De Sutter, Federal Minister of Telecommunications.

Thanks to the new investment and the additional subsidies, Telenet Essential Internet is shifting up a gear. Technology is the key to active participation in the digital society, now more than ever. Through concrete and structural digital inclusion initiatives and connectivity solutions, Telenet remains committed to making an effective contribution to this societal challenge as a telecom operator.
----------
Recognised social organisations that are interested can submit an application via: https://www.partner-essentialinternet.be/
More information on how to donate old laptops can be found here: https://www2.telenet.be/nl/hardware