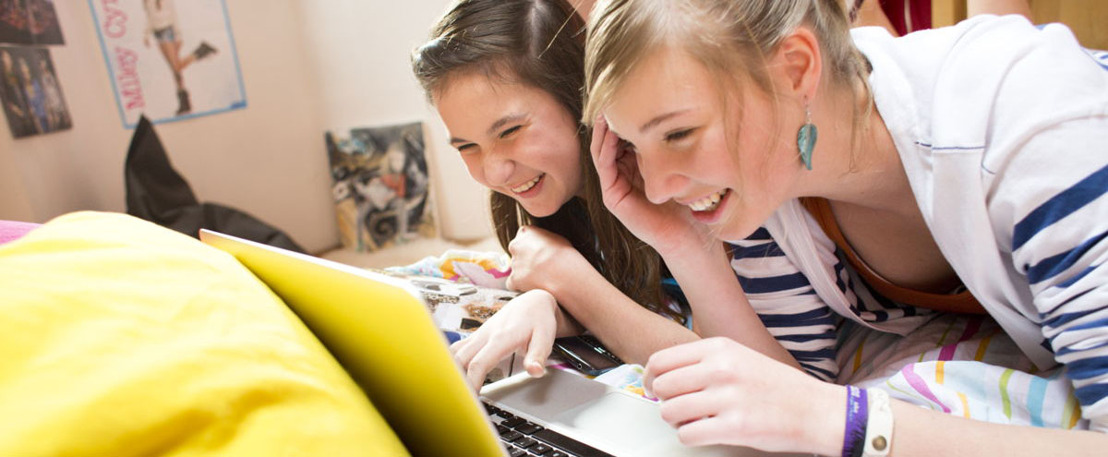 We did it: our download volume has peaked at 1 Tbps
We are downloading a hundred times more than 10 years ago
At the end of 2017, Telenet customers attained a total download volume of 1 terabit per second. That means that all Internet users together download more than 1,000 gigabits in one second on the cable network. This corresponds to a download capacity of approximately 100,000 films per hour. Can our network still handle that volume of traffic? And what is still in store for us?
The total downstream traffic of private Telenet users on Telenet's cable network has just exceeded 1 terabit per second. To illustrate this: 1 terabit per second corresponds to 250,000 Netflix films or 1 million YouTube videos being watched at the same time, or a total download capacity of 100,000 films per hour.
Video, video, video
Internet traffic is growing by about 40% annually. Ten years ago, the total download volume of all Telenet users together came to 10 gigabits per second. Today, that figure is a hundred times higher. The main reason for this sharp rise is the shift from text to image. Whereas before the Internet was used primarily for sending emails and searching for information, we are now all viewing photos and videos - take for example the videos that automatically play on Facebook -, while the cloud has become the visual encyclopaedia of our lives. Furthermore, we are using more and more devices: on average four per household. (see graph 1)
Can our network still handle that volume of traffic? Yes, definitely; that record level also has a lot to do with the higher speed and download capacity that has become possible in recent years. We are also upgrading our network every day. In Belgium, 70 percent of households are currently using a fast broadband Internet connection of at least 30 Mbps, whereas in the whole of Europe this is only the case with on average 27 percent of households. 99% of Telenet customers can even surf the web at more than 100 Mbps. This means that Belgium is already at the forefront as far as superfast Internet is concerned.
Digital Agenda and Telecom Minister Alexander De Croo had already announced an action plan two years ago to have at least half the Internet connections in Belgium attain an Internet speed of up to 1 Gbps by 2020. Telenet wants to achieve that target sooner: by 2019 we want to make the Internet at least five times faster than today in the whole of Flanders and Brussels. For the early adopters - those who already want to surf and download faster - we recently launched the 400 Mbps Speedboost option.
Do we really need that speed of 1 Gbps? After all, we're doing okay now. However, we should not compare Internet speed with the speed of our car, for instance, but with its size. Do we need all that space now? Not for the time being, but often we choose our car for the times when we have to fill it up completely. All that space comes in useful when you want to go away for the weekend. Not everyone already needs that 1 Gbps every day, but there are people who already find it convenient to have all that space. Anyway, the annually increasing download volume clearly shows that it will become the standard a few years from now.
Mobile data usage up 750%
Not only fixed data traffic reported a spectacular growth in recent years. Mobile data usage, too, is increasing annually by 60 percent. At 15 Gbps, the peak in mobile download volume is a good deal lower than with broadband traffic, for the simple reason that we cannot download complete films or series on our smartphones yet. Nevertheless, compared with four years ago, we see an increase of as much as 750 (!) percent. And according to a survey by Cisco, mobile data usage will continue to grow exponentially. The manufacturer and seller of network equipment calculated that by 2021 video will account for as much as 78 percent of all mobile data traffic. (see graph 2)
We are also using more and more mobile data at music festivals and during the festive season, causing Internet traffic to go through the roof this year. At Rock Werchter, Tomorrowland and Pukkelpop in 2017, 134 percent, 82 percent and 80 percent more data was used than in the previous year. On New Year's Eve 2017, there was a 75 percent increase in data usage compared with New Year's Eve 2016. (see graph 3)
Telenet is investing 250 million euros in the mobile infrastructure. By 2020 there will be up to one thousand new sites to boost capacity and expand 3G, 4G and 4.5G coverage. At our innovation centre in Woluwe, we are preparing the launch of 5G in Belgium in cooperation with our infrastructure partner ZTE. Our own experts and external parties get the opportunity to test new products, services, apps and prototypes on the fifth-generation mobile network.
To say that the Internet is not standing still is an understatement. But our mission to offer superfast Internet to everyone is not standing still either. We are eagerly looking forward to the digital future, and we intend always to keep one step ahead.
by Bart Pauwels
Technology Leader Capacity