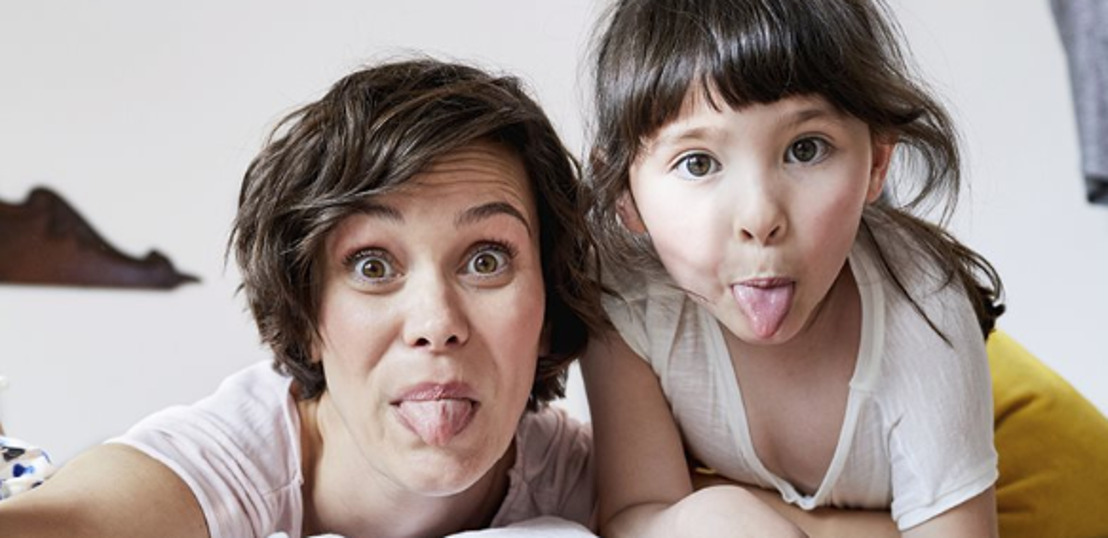 "Dinner's ready!" is now whatsapped instead of called out
Half the Flemish families communicate with each other by social media, even when everyone's at home

Telenet expands WIGO and focuses fully on peace of mind for every type of family

Half the Flemish families communicate with each other by social media such as WhatsApp, even when everyone's at home. More than half find that by using digital applications they know more about each other's lives. This emerged from a survey that was carried out among over a thousand Flemish parents and youngsters about how they communicate with each other within the family. Telenet commissioned this survey from the research firm Indiville.
Small or large families, recomposed households or households without children, they all have one thing in common: they keep in constant touch with each other by using the many digital communication media and apps that exist today, as has emerged from a survey commissioned by Telenet.
The trend: whatsapping, even when we're at home
It is significant that more than 60% of families communicate with each other using digital technology even when everyone's at home. More than one in five adults point out that this happens every day. The bigger the family, the more often the members communicate with each other online when everyone's in the same house. More than one in two adults (56%) and youngsters (60%) indicate that they have a 'family group' on WhatsApp. 28% of young people also have a group with (step)brothers and/or sisters where parents aren't allowed.
One in three families post something every day in that family group. More than 70% use it mostly for practical purposes, for instance to find out who will be home at what time, what's for dinner, and to say that dinner is ready. About 60% of adults and youngsters point out that they also use the groups to share photos and videos with the family. One in four young people sometimes share their location with the family so that everyone knows his or her whereabouts.
Families communicate better and want to be reachable anywhere and anytime
Being reachable anywhere and anytime is the motto of our families: 70% of adults want to be able to get in touch with their family members anywhere and anytime. More than half the parents (53%) and young people (51%) find that, thanks to social media, they know more about their family members' lives. About four in ten (parents: 41%, youngsters: 38%) notice that communication within the family has improved. What is more, more than one in four adults (27%) and as many as four in ten youngsters (41%) say that family members talk to each other more thanks to social media.
One in three (33%) adults make clear agreements about which channels they use to communicate within the family. At 77%, texting is still the number one channel, followed by 'conventional' voice calls (71%). However, chatting and voice calls using social media apps such as WhatsApp or Facebook Messenger are gaining in popularity. Half the parents (49%) use social media to communicate with their partners or with the children. Nevertheless, it's the children who lead their parents to those social media channels. They report higher figures when it comes to communication with their siblings and parents. At 86%, texting still takes the lead, although chatting via social media comes in a close second at 83%. They are less keen on making voice calls (69% 'conventional', 65% via social media).
Telenet responds to the way families evolve by expanding WIGOHow communication happens within a household, whether there are differences between large and small families, which applications they use and how this communication evolves: Telenet always wants to keep abreast of the latest trends, evaluate its product offering and make adjustments where necessary. It is expanding WIGO in order to cater more effectively to different types of households, large or small. Families now have an even wider choice to pick the WIGO formula that suits them: a size bigger or smaller, with or without mobile subscription. Each formula delivers on the promise to the customer of peace of mind and convenience of 'all-in-one', with carefree surfing, calling and texting, a full complement of data to share between different SIM cards and Telenet TV.
Jeroen Bronselaer, marketing manager Telenet:
We believe it is important that WIGO keeps evolving with the expectations of households. Our survey has shown that they want to stay connected without hassle. We have been catering to this trend for the past three years already by expanding the data volumes and by adding 'Free G'. Nevertheless, we find that there are customers who appreciate the convenience of the existing WIGO, but who don't need all the current products. That is why we now want to make WIGO into a broader family of products which, each in their own way, deliver on the promise to the customer of peace of mind, freedom from hassle, and the convenience of 'all-in-one'. Depending on which product the customer chooses, he will get extra options, such as Free G, 36-hour Replay TV or more simultaneous streams for Yelo or Telenet TV."
WIGO-logo