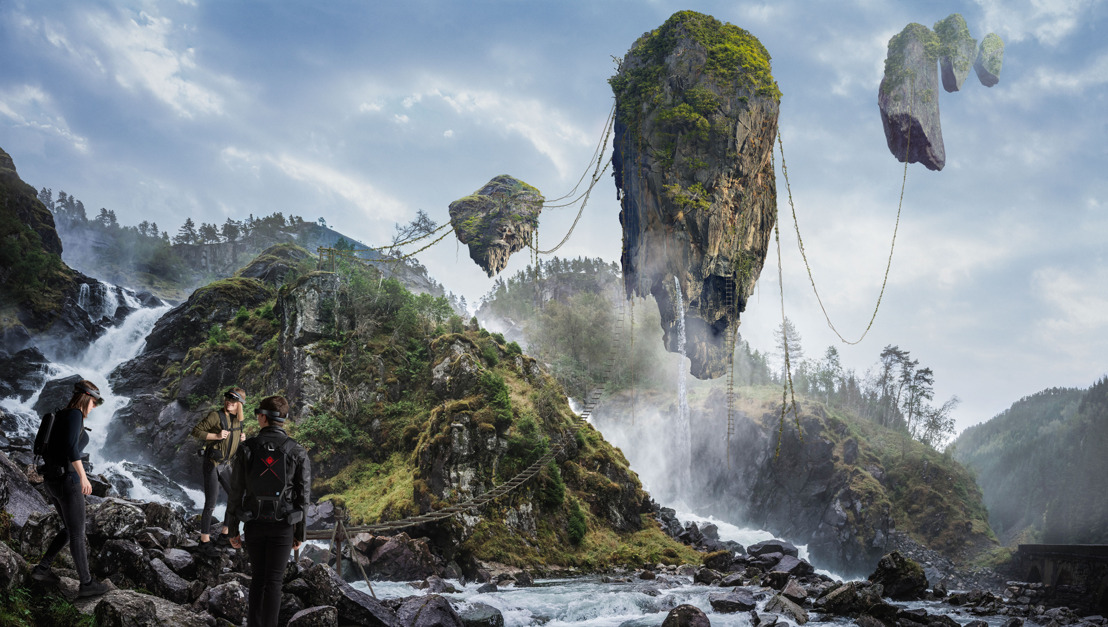 From fiction to reality: Telenet creates Virtual Reality experiences in The Park
Mechelen, 15 May 2018 – Today, Telenet is presenting The Park. The Park is a brand-new concept which immerses visitors in virtual reality experiences. This innovation is the next step in the company's entertainment strategy. Viewers want to be more closely involved in their favourite programmes; they want to get a taste of the action, make their own comments, and even 'take part themselves'. There is a growing involvement in extra perceptions apart from on screen (through social media, apps, websites, etc.). Telenet now wants to go one step further. In The Park, the company can combine its technological assets perfectly with entertainment. Visitors, equipped with VR goggles and a rucksack with sensors, enter The Park and stroll around freely in a completely fictitious world where they themselves play the lead role. Over time, this could be linked to local films, series, or programmes. The first location opens in Antwerp on 16 June.
Trends indicate that viewers want to be more closely involved in entertainment. Indeed, technology has made it possible to have more interaction between viewers themselves, through social media for instance, but also between viewers and the content itself. This phenomenon is clearly in evidence in sports events where extra camera positions, heat maps, and the use of sensors bring the action closer to the viewers. Yet, with fiction series and films, too, the best entertainment now extends well beyond the closing credits to extra experiences in social media, apps, concerts, and fan forums. Viewers not only want to see their favourite show, but also be more involved in it themselves.
Telenet is now playing this trump card by launching The Park, a new concept which revolves entirely around virtual reality perceptions. For the time being, only at specific locations, but the aim is to extend this platform to living rooms and smart devices.
CEO, John Porter, says: 'The best entertainment perceptions, whether we're talking about a concert, a sports event, bungee jumping, or drinking coffee with a real barista, all have one thing in common, namely that you enjoy them yourself to the full, that you're fully involved in them, and that you can share them completely with friends and others. We want to give that feeling at Telenet. We want our viewers to experience intense entertainment. This is increasingly possible thanks to technology. For sports events, we're already experimenting with new technology apparatus to bring the action closer to the viewers. By using virtual reality technology, we can, over time, also let people themselves take part in their favourite programme, series, or film. The Park is at the intersection of our core businesses, technology and entertainment. Telenet is in a unique position to form a link between content creation and the necessary infrastructure for experiencing that content. By extending investments in local video to other similar platforms, we can also involve new partners to extend the life cycle of a film, series, or programme, and that can only be good for the local media landscape.'
The Park: 'phygital entertainment'
The first event location of The Park will open on 16 June and is situated at Belgiëlei 143 in Antwerp. The Park is about 'phygital entertainment' i.e. at the intersection between physical and digital. The main experience is a 'free-roam VR' adventure; this means that players can move around in a physical space without being attached to a specific framework or wires. The players, equipped with VR goggles and a rucksack with sensors, enter a lifelike decor, where they and their team mates play the lead role. There are no fewer than 30 cameras in the playing room, which detect any movement. Initially, two games are available: 'Moonlight survival' and 'Alien Defence'. In the first one, the players in the team have to fight against zombies, while in the second one, they act as a team of marines to save humankind. This range will soon be extended to include other options. Apart from the lead role, several other VR experiences are available, which the players experience separately. In the Demo Area, visitors can paint in 3D, walk on a narrow plank between skyscrapers, and crown themselves as archery champions.
The Park is a corporate venture between Telenet and 9.5 Magnitude Ventures, a new type of venture capital fund specialising in tailor-made start-ups. Corporate venturing enables Telenet to develop this new business autonomously and flexibly and offers the opportunity for speed and flexible growth. Philippe De Schutter, currently Country Manager at Uber Eats, has been appointed as Managing Director.
Kenny Henderyckx, Director Corporate Development, says: 'VR offers vast opportunities. We note that nowadays, there is also a huge interest in VR, but there still aren't enough opportunities to get to know it. With investments from technology companies, we expect that VR will eventually be cheaper and will therefore enjoy a wider target audience, something which, in turn, will mean more investments in VR content. With The Park, we want to play a pioneering role in Belgium and give people a taste of what VR can mean. The free-roam VR concept is still largely unknown in Belgium and we have great faith in its potential. Today, our focus is on specific locations (we aim to open at least one more location by the end of the year), but where we're really aiming to go is a platform which goes beyond those locations, whereby The Park also extends the entertainment experience at home and out and about through ingenious devices. The Park aims to be the number one entertainment platform of the future, which takes players to a fictitious world of their choice through compelling 'phygital' stories.'
The Park, An Entertainment Playground
Belgiëlei 143, Antwerp.
​You will find all the information on prices and bookings on www.theparkplayground.be. You can book as of tomorrow, May 16. The opening is planned for 16 June 2018.