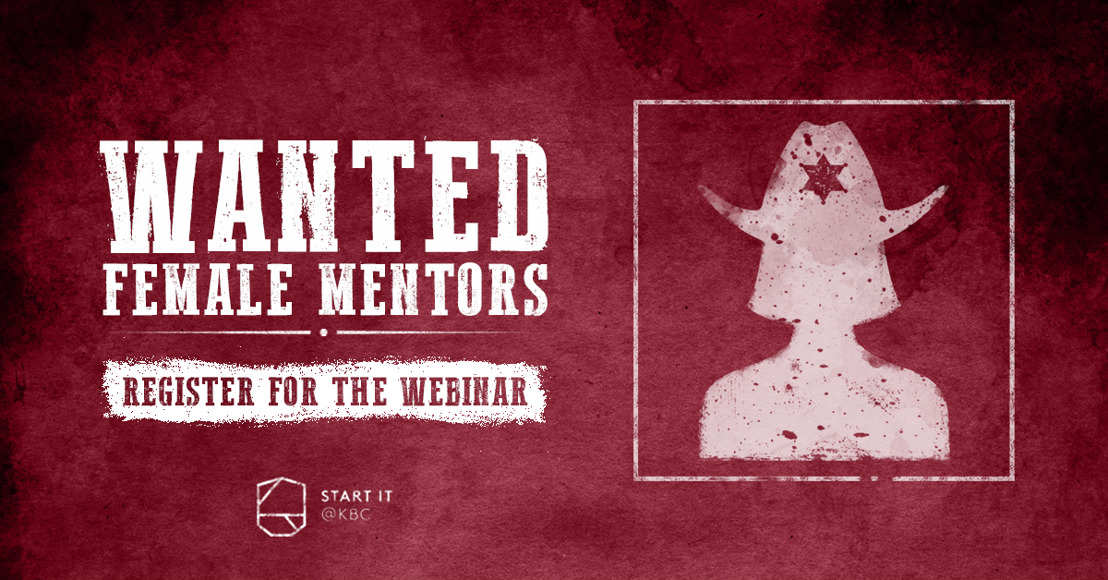 Start it @KBC and Telenet Kickstart start a campaign to give an extra boost to female entrepreneurship
Belgian Women's Day | Wanted: role models to inspire female founders and to help scale them
Brussels, November 9th, 2018 – On Belgian Women's Day (November 11th) Start it @KBC launches a brand new campaign to boost female entrepreneurship. Together with Telenet Kickstart, the biggest accelerator in the country calls on female entrepreneurs and experts to apply as a mentor and/or jury member. "One of the biggest issues that female founders cite is the lack of role models. With this appeal, we not only want to boost the number of 'female' start-ups, we also want to guide and surround the founders even better to have their start-up scaled."
In the last few years Start it @KBC has already put a lot of effort in to boost female entrepreneurship. "As a structural partner, Telenet Kickstart is happy to support our initiatives", says Ineke Rampart, Director of Corporate Affairs at Telenet. "We notice that the number of female founders is on the rise, but start-up entrepreneurship still too often only appeals to men. Nearly four-fifths of the start-ups in the Start it @KBC ecosystem are 100 percent male, and that is not good. There is an urgent need for a catch up."
Over the past few months, Start it @KBC conducted a survey among female founders, and the accelerator also organized a round table with start-ups, established entrepreneurs at large companies and several investors. One of the greatest problems that emerged was the shortage of female role models.
Anna Thomlinson, managing director at Start it @KBC: "A lot of female founders indicate that they have gained a lot from the experiences and advice of female entrepreneurs who are already more experienced than they are. Female entrepreneurs who have already taken the course they are starting on, and can point them to the pitfalls and the opportunities along the way. These role models are currently insufficiently present. Not only in the media and in the public debate, but also in our own community. Due to our efforts, we had as many female and male judges at the final pitch wave to judge the start-ups, but only 14 percent of our mentors are women."
Campaign for mentors and jury members
On November 11th – Women's Day – Start it @KBC launches an action that calls on female experts – entrepreneurs, but also employees of companies – to apply as a mentor or jury member. During a Webinar – preceded by a striking campaign on social media – female mentors will testify, and candidates can ask them all kind of questions. Start it @KBC asks all its strategic partners to delegate at least three female mentors and/or jury members.
Start it @KBC has also created vacancies to clearly define the role of a mentor and jury member in the community. "We notice that quite a few women absolutely have the experience and the qualities to be fantastic mentors, but they have cold feet", explains Anna Thomlinson. "They fear that the mentorship will put too much of a claim on their already busy lives. That is why we want to explain in advance and as clearly as possible what we expect from them, what effort it will demand, but also what they will get back in return."
Joining forces
Start it @KBC combined the conclusions and the ideas from the survey and the round table into an extensive whitepaper. The accelerator will get started in the coming weeks and months with a number of recommendations.
But with the whitepaper, Start it @KBC also wants to go to other organizations and companies, to join forces. "As the biggest accelerator we have a social and economic role to play", emphasizes Lode Uytterschaut, founder of Start it @KBC. "But we are not going to boost female entrepreneurship on our own. In our survey, 6 out of 10 female founders indicated that they were already faced with discrimination, which is a social problem and a challenge that we need to tackle together. With Start it @KBC we want to be the glue between all these actors who are already working hard to convince women to take the step to entrepreneurship."
---
Whitepaper female entrepreneurship
Blogpost roundtable female entrepreneurship
---
Press contacts
Start it @KBC
Saar Dietvorst
saar@contentcats.be
+32 468 19 75 07
Telenet Kickstart
Ineke Rampart
Corporate Affairs Director Telenet
ineke.rampart@telenetgroup.be
Press Contact Telenet
Isabelle Geeraerts
Spokesperson Telenet
Isabelle.geeraerts@telenetgroup.be

About Telenet Kickstart
Telenet Kickstart aims at boosting the Belgian start-up community through structural partnerships with leading incubators and accelerators like Startit@kbc.
Initiated in 2014, Telenet Kickstart provides mentoring and coaching to (digital) entrepreneurs and start-ups, teaching them how to turn their innovative idea into a scalable and market-ready solution. Through the Telenet Kickstart start-up acceleration program, Telenet Group – a leading telecom, media and entertainment company in Belgium, actively invests in the sustainable growth of start-ups and scale-ups and establishes strategic win-win partnerships by investing financially in or by buying services from innovative digital entrepreneurs.
About Start it @KBC
Start it @KBC supports and promotes entrepreneurs with innovative ideas and scalable business models. As such, it is Belgium's largest community of start-ups. As a pioneer in Belgium, Start it @KBC aims to have a positive impact on the country's economy and society.
For their first 3 months at Start it @KBC, start-ups join a strong, tailor-made accelerator programme while continuing to profit from top-notch mentorship, diverse expertise, an extensive international network and an inspiring co-working space for a period of 18 months. Start it @KBC continuously adapts its programme in co-creation with its start-ups.
One of Start it @KBC's key objectives is to stimulate (international) cross-pollination between more than 650 start-ups and scale-ups but also amongst investors, experienced mentors, experts from a wide variety of domains (technology, sales, legal, marketing, communication, etc.) and other global accelerators and incubators. The community also plays a leading role in promoting diversity and female entrepreneurship.
Start it @KBC also has a clear international vision. In addition to hubs in Antwerp, Brussels, Ghent, Hasselt, Leuven, Kortrijk and Budapest, the community also includes a presence in New York. As of 2017, Start it @KBC has been a member of the Global Accelerator Network (GAN), a select network of 120 global accelerator programmes, offering extra opportunities for start-ups on the international stage and up to 1 million dollars' worth of exclusive advantages from technology partners.
Via the Start it @KBC's Corporate Incubation Program, start-up teams within large companies have also been able to transform innovative ideas into fully-fledged businesses under the guidance of Start it @KBC.
Start it @KBC began in 2014 as a partnership between Accenture, Cronos Groep, Flanders DC, imec, joyn, KBC, Mobile Vikings, Telenet Kickstart and local academic partners.
Start-ups can apply to the programme at any time via the website www.startit.be. The selected founders are then invited to pitch their idea to a professional jury at 1 of 2 pitch events per year, after which a new batch of start-ups begin their entrepreneurial journey at Start it @KBC.
For more information: www.startit.be