Staycation summer: roaming traffic virtually halved
The Netherlands was the only country to report more roaming traffic than last year
Thursday, September 10, 2020 - This summer, we had less opportunity to travel than in previous years. A fact that was also reflected in the roaming traffic of Telenet and BASE customers during the summer vacation. Normally we see a more than twofold increase in roaming traffic during the summer months (+120%); this year, there was only a 47% increase.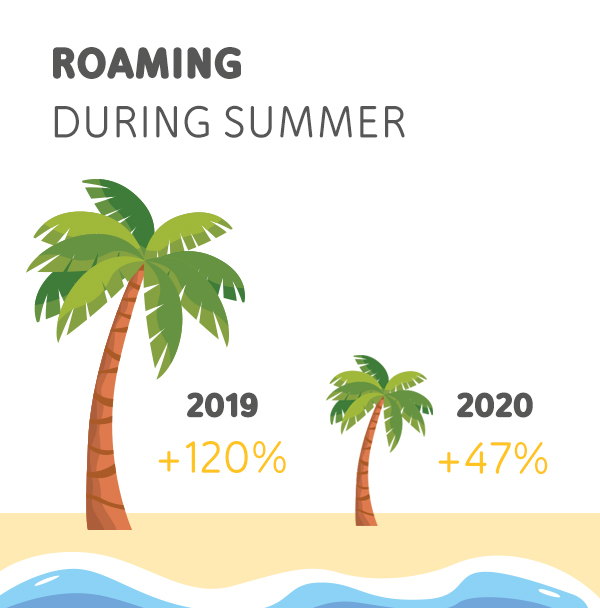 Long live our neighbors
The Netherlands was by far the most popular destination, and the only country to report more roaming traffic (+7% compared to last year) by Telenet and BASE customers. Customers were also to be found mostly in France and Germany, although roaming traffic in those countries was - respectively - 8% and 23% down on last summer. Popular vacation destinations such as Spain, Italy, Greece and Portugal received on average up to half the number of Telenet and BASE roamers. The Scandinavian countries, too, saw on average just one quarter (27%) of the usual number of roamers.
What is remarkable is that there were fewer cancellations of vacations to seek the mountain air. After our neighbors, Switzerland is the destination that reported the smallest loss of roaming traffic, with just 35% less than last year.
Naturally the coronavirus measures also caused roaming traffic to decline sharply in otherwise popular faraway vacation destinations. The United States, Canada, South Africa, Egypt, Morocco and Thailand received on average just 5% of the usual number of roamers.
Foreigners in Belgium
Overall, Telenet recorded about 4% less roaming traffic from foreigners than last summer. This decrease is evidently driven, among other things, by the absence of foreign tourists from non-EU countries. Nevertheless, German, Spanish, Swiss and Portuguese tourists also stayed away this year. By contrast, we recorded more traffic from French (+21%), Dutch (+18%), Swedish (9%), English (13%) and Italian (32%) tourists.