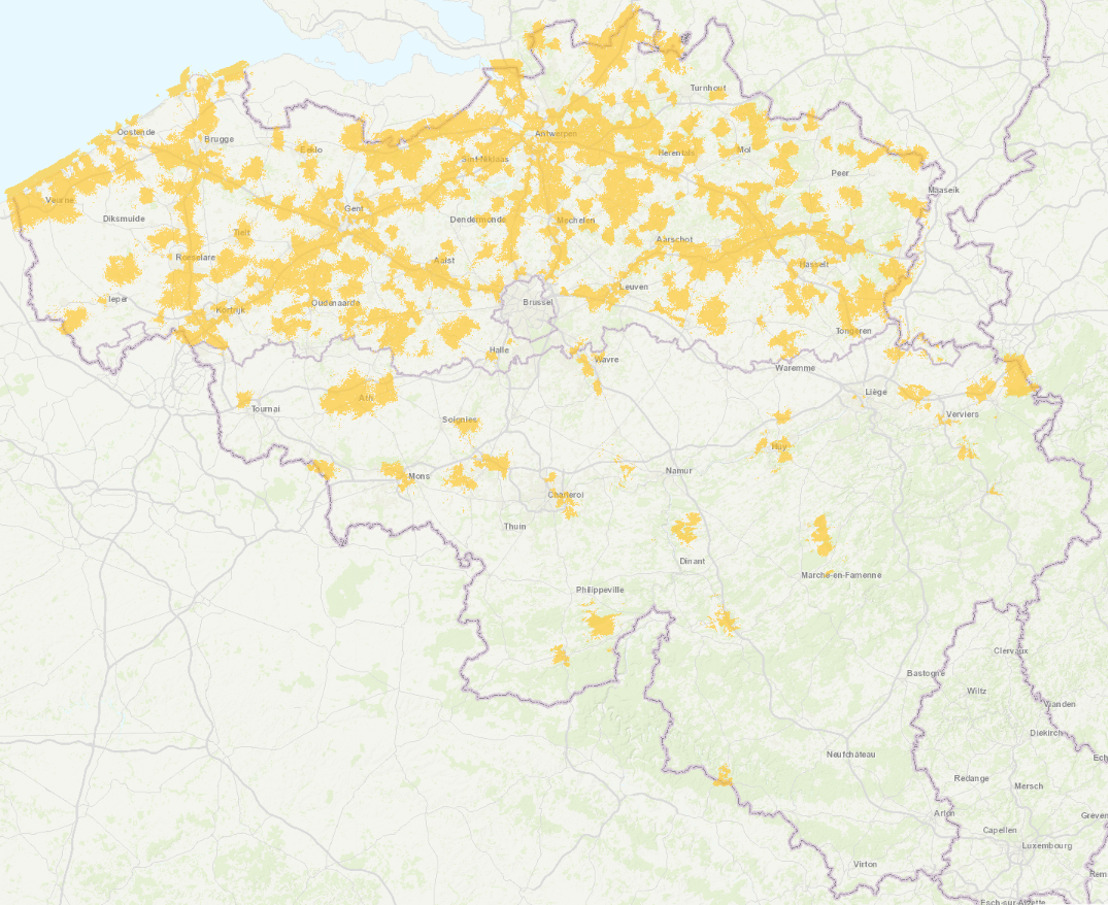 Telenet and BASE celebrate 500 days since the launch of 5G!
Mechelen - Thursday, 20 April 2023 - On April 20, it is exactly 500 days since Telenet launched its 5G network in Belgium . BASE has been offering its customers the opportunity to use this new technology for about a year now. It's a chance for Telenet and BASE to share some interesting figures on the evolution of 5G network coverage, the growth of 5G data usage and the penetration of 5G-enabled smartphones among their customers.
Network coverage in line with forecasts
Since the launch of their 5G network in December 2021, Telenet and BASE have continued to roll out the network gradually and are currently on track to achieve their coverage targets.
Currently, more than 850 mobile sites provide 5G coverage and almost 260 municipalities have one or more active 5G antennas in their area. The vast majority of sites have been activated in Flanders, in and around the major Flemish cities, such as Antwerp, Ghent, Genk, Leuven, Mechelen, Aalst, Hasselt, Kortrijk, Lokeren and the coastal areas.
Coverage in these cities is already impressive, with population coverage ranging from 55% to 80%. In addition, the Belgian coast also benefits from significant 5G coverage, with some areas already reaching almost 85% coverage. Special attention has also been paid to roads connecting densely populated areas.
Focus on the largest Flemish cities: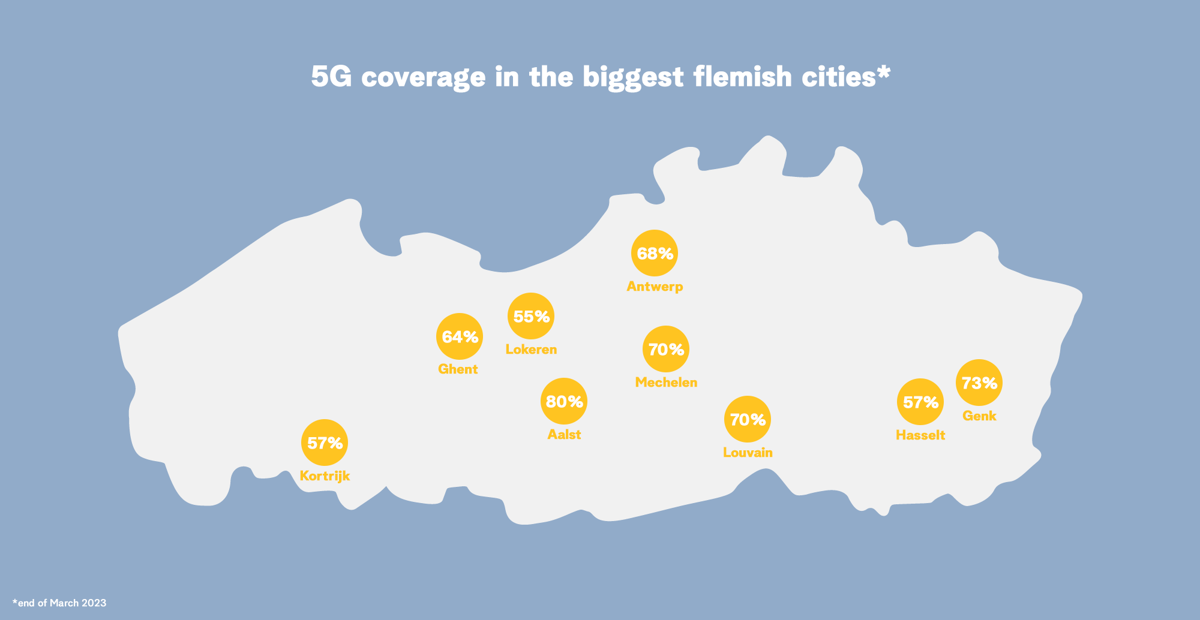 Focus on the areas of the Belgian Coast with the best coverage:
Due to the delay in adopting emission standards for electromagnetic waves, 5G has not yet been activated in Brussels and has only been partially activated in Wallonia, notably in areas around Charleroi airport and in parts of Mons and Ath. The recent adoption of new standards, both in Wallonia and Brussels, should enable Telenet and BASE to extend their 5G network there very soon.
Luk Bruynseels, Chief Product & Technology Officer of Telenet/BASE:
"We are delighted with the progress we have made in extending the coverage of our 5G network in Belgium. We plan to invest a total of around €300 million by 2025 in deploying this technology and want to double the number of sites in the country this year alone. Although we had to concentrate our efforts on Flanders at first, initiating coverage in Wallonia and Brussels is now imminent and we will first focus on the areas where we need the most additional capacity in these two regions. We still expect to make the majority of our 5G investments by the end of 2025".
50% usage growth per month
While 5G network coverage is gradually expanding, Telenet and BASE are also seeing a steady increase in 5G data usage by their customers. Daily 5G data usage growth has increased by an average of 50% per month over the past year, compared to only 30% per month for 4G at the same stage of its launch. 5G technology currently accounts for about 4% of total data traffic, compared to 94% for 4G and less than 2% for 2G and 3G.
Luk Bruynseels, Chief Product & Technology Officer of Telenet/BASE:
"We are seeing a significant increase in data usage on our 5G networks as more and more customers take advantage of the benefits of this advanced technology at no extra cost. 5G enables higher speeds, lower latency and enhanced capabilities - a new era of digital experiences that we want as many people as possible to enjoy."
The success of 5G-enabled smartphones
And finally, no increase in 5G data usage is possible without a compatible smartphone. Telenet and BASE are also seeing a steady growth in the uptake of 5G devices among their customers. As 5G-enabled devices become more widely available, more and more customers are opting for these devices to take advantage of the enhanced capabilities of 5G technology, among other things.
Olivier Noppe, Head of Hardware & Handsets at Telenet/BASE:
"Although having a 5G-enabled phone is not yet the deciding factor when choosing a smartphone, we are seeing a steady increase in the number of 5G-enabled smartphones among our customers. ​ More and more customers are opting for high-end smartphones to get the best features, and these usually include 5G. For example, around 30% of the phones using our network today are 5G compatible, compared to only 22% a year ago. Similarly, about 85% of smartphones sold in March 2023 were compatible with 5G compared to only 70% at the same time last year. "