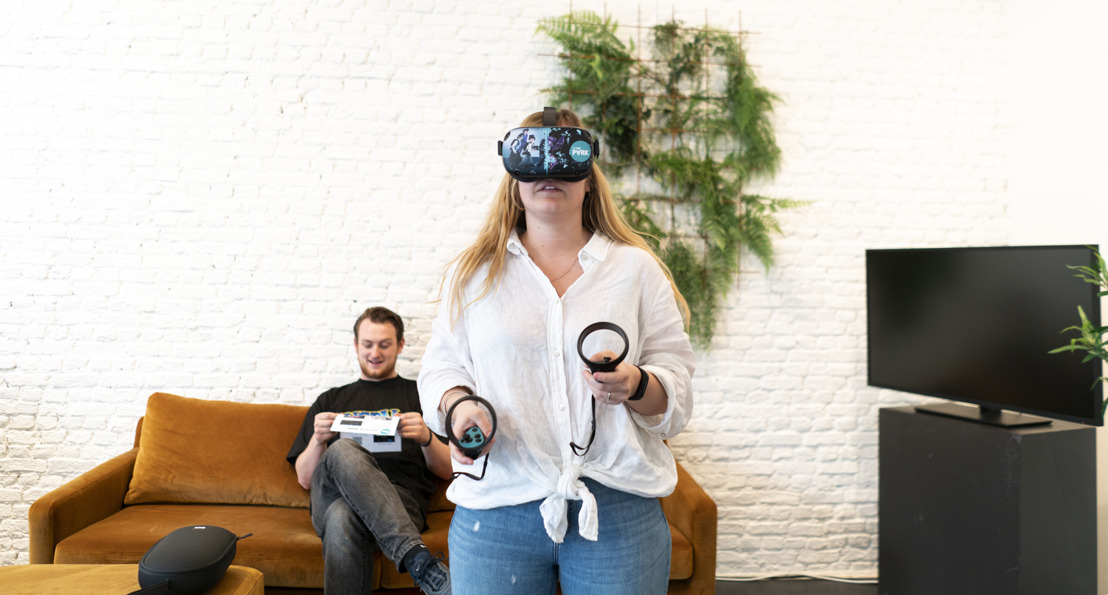 Telenet Brings VR Activities to the Living Room via The Park
The Park rents out headsets for home use: three days of virtual reality (VR) entertainment
The Park is to acquire a stake in game development company Triangle Factory to be able to respond faster to new trends and to continue creating own content
The Park, comprising the VR experience locations of Telenet in Flanders, expands its offer with a formula for the living room. Customers can rent VR goggles via Telenet points of sale in order to play various games at home. To respond even faster to innovations in the field of VR and to continue its focus on own content, The Park is further to acquire a stake in Triangle Factory, a game development company with a strong emphasis on VR content.
For Rent: Goggles
Since its launch in June 2018, The Park has expanded to become one of the largest Belgian VR experience companies with five locations in Flanders and Brussels. From the start, The Park had an ambition to go beyond purely location-based VR. COVID-19 accelerated these plans. The Park is starting a test whereby customers of the Telenet point of sale on the Meir in Antwerp can rent VR goggles for three days. This allows them to play four different VR experience games in their own living room. This pilot experiment will be extended to other stores such as the one in the Nieuwstraat in Brussels, and will run for several months. In case of a positive outcome, the intention is to involve multiple Telenet points of sale throughout Flanders and Brussels.
In practice, The Park initially offers four games that are suitable for more experienced gamers and beginners. Amongst these, 'Hyper dash' will be available as a first. This game was developed by Triangle Factory and allows two or more players, each from their own living room, to play and communicate together. The range of games available will be updated regularly.
Stake in Triangle Factory
Previously, Telenet already collaborated with Triangle Factory for the development of the location based VR game of the fiction series 'De Dag' (The Day), zombie shooter game 'The Hallow' and the competitive multiplayer game 'NanoClash'. To be able to focus even more on innovation and create more own content in the future, The Park is to acquire a stake in Triangle Factory.
'COVID-19 gave us the opportunity to realize our ambitions to bring our VR experience into the homes of our customers. For the price of one ticket for The Park they can play VR games at home for three days. We are currently in a testing period to gain the necessary experience and to be able to expand this later on. We consider this complementary to our VR locations, which we obviously continue to focus on in order to let groups play together. The enthusiasm for VR among the Belgian public is great, whether they are keen gaming fans or complete beginners. We aim at reaching people of all ages. That is why we develop all our games ourselves, taking into account the feedback we have gathered from our customers. So far we have developed three games and we wish to continue to focus on this. Our interest in Triangle perfectly fits the bill. It enables us to stay on top of new gaming trends and to differentiate with our own experiences'
​Philippe De Schutter, CEO The Park.
'This interest enables us to participate in the growth story of The Park where content is playing an increasingly important role. This way, we are closer to the end customer whose feedback helps us to continue developing better experiences. In addition to the professionally equipped location-based entertainment structure, we will also gain access to the strong shareholders network of The Park (9.5 Ventures, Telenet, Liberty Global) which will enable us to open a new chapter of our own growth story',
​Timothy Vanherberghen, CEO Triangle Factory.
Practical
The VR goggles can be rented for three days at the rate of €39,99. Goggles should be booked online via the website of The Park and can be picked up in the preferred Telenet store (for now only on the Meir in Antwerp and soon also on De Nieuwstraat in Brussels).
About Triangle Factory - Triangle Factory is a team of 20 passionate game developers and designers with a strong focus on mobile and XR (VR and AR) for various applications, ranging from entertainment to business contexts. They are the developers behind Trivia Switch, a high adrenaline multiplayer trivia game with over 1 million downloads, and have recently worked together with SBS to bring the popular TV show 'De Slimste Mens ter Wereld' (The Smartest Man in the World) to your smartphone. Triangle Factory also produces (location-based entertainment) VR content and has created several VR games for both new and existing IPs. In addition to entertainment productions, Triangle Factory helps other companies to use XR for business applications such as training, engineering, medical and space applications.
Telenet spokesperson (only for journalists)