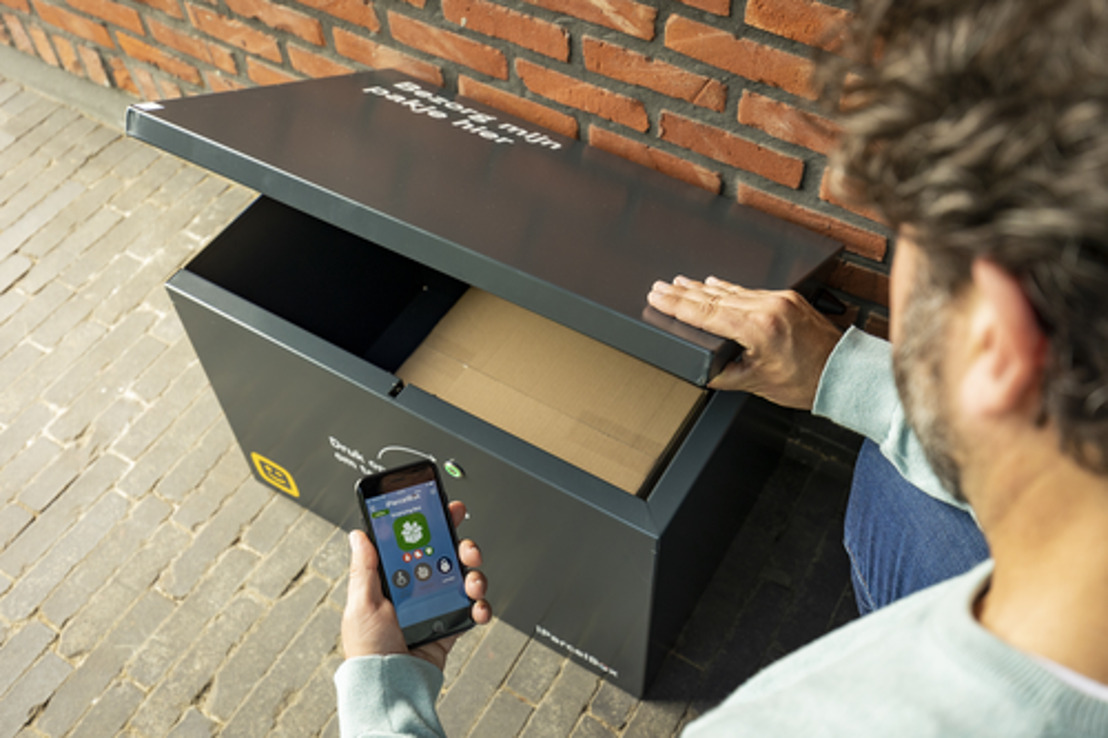 Telenet launches 'Smart Package Box' to prevent missed home deliveries
Mechelen, June 23, 2022 - Telenet recently started offering its customers a "Smart Package Box". Couriers can deliver the parcels you ordered online safely and anytime to this package letterbox, which you place by your front door. In this way, Telenet aims to respond to the social trend of increasing e-commerce, and the associated problem of failed deliveries when consumers are not at home.
We see them passing by every day: couriers with yet another load of packages from one or another web store. The fact that consumers prefer to have their packages delivered at home is putting pressure on local traffic, and also causes some nuisance and pollution. With people being less often at home again when the courier comes by, unsuccessful attempts to deliver a package are also increasing. The sector has been experimenting for some time with alternative delivery options, such as delivering the package to neighbors, or also to central lockers or parcel machines.

​The Smart Package Box
Telenet also wants to provide its customers with a solution to solve the many missed home deliveries. In addition to offering the basic services of television, Internet and telephony, the company also wants to help consumers with a range of smart products and services. "The Smart Package Box" is the most recent example of this: it is a locked box approximately the size of two stacked crates, which you can place by your front door. The Smart Package Box is operated via an app on the smartphone. Couriers can safely leave the parcels in this box, protected against adverse weather conditions and theft.
Isabelle Demarbaix, responsible for the Smart Package Box at Telenet: "We find it important to respond to social trends. 'Smart' services may provide a simple solution to certain problems, but customers are not always aware of all the gadgets that are available, and which ones they should choose. We want to take on the role of a guide in this. We have extensively tested different types of smart package letterboxes. We believe that this package box can be a solution, in particular for consumers who live at some distance from the city center, a postal point or a parcel machine, and who have the necessary space on their driveway or by the front door. The fact that Minister De Sutter is also working on regulations regarding these package boxes, and is working to persuade consumers to use them, demonstrates the potential for this new type of letterbox."
Minister De Sutter: "Couriers stand in front of a closed door 1 out of 10 times. Reducing the number of failed home deliveries and unnecessary trips is one of my policy goals. Parcel boxes can help with this, especially in rural areas where the distances can be long. I therefore support companies such as Telenet that are committed to promoting such solutions. It is important, for example, that the parcel boxes are placed in such a way that they are easily accessible for the deliverers. With that goal in mind, I have drawn up guidelines that all parcel post boxes in our country must comply with."
How does the package box work?
For the first delivery, the courier presses the button on the box and places the package inside. The box locks automatically, and the customer then receives a notification in the corresponding app. If you receive a second delivery, you will receive a new notification with a request to remotely open the box again for the courier. The courier can then safely deposit the package inside the box. The box automatically locks again, and is always connected to your Wi-Fi network.
Telenet is launching two types of smart package boxes: one you can connect to the electricity of your home via a cable, and one running on a battery, which includes a solar panel to charge it.
Own logistics chain
Telenet is also looking into how it can act as ecologically responsible as possible in terms of its own logistics chain. For this reason, the company has joined CULT, an independent initiative that smartly collects deliveries from several large companies in warehouses on the outskirts of the city, in order to bundle them for delivery to customers or points of sale using cargo bikes or electric vans.
Telenet had already jumped on the Bringme bandwagon before this. This enables employees to have their (personal) online orders delivered in the Bringme "lockers" in the office building in Mechelen. In this way, several deliveries are bundled together, reducing the likelihood of a delivery person ending up in front of a closed door, and adding a beneficial effect to efficiency, mobility and the environment.