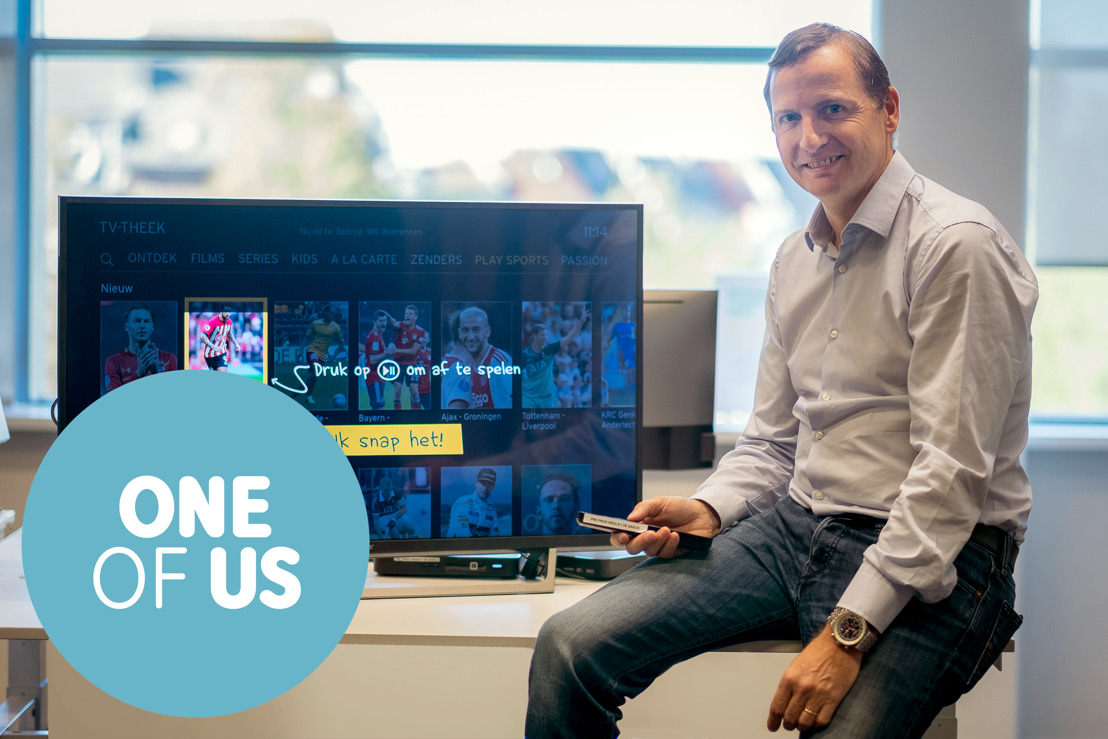 Flying from one challenge onto the next one
We're pleased to introduce you to Dann, our VP Product & Customer Journey Management. In 1989, he graduated from the Cadettenschool and wanted to become a military pilot. However, his path took an unexpected turn and led him to Telenet. Nevertheless, 8 years ago, he obtained his pilot's license and now he is flying in his sports aircraft almost every week.
Successful failure
Dann was responsible for the Product Marketing of the residential market within Telenet for 10 years when he gave his career a new direction. Together with some friends, he participated in a startup weekend.
"To our surprise, we won that pitch and not much later we founded Nomatime: a kind of AirBnB for office space where you can book meeting rooms or work spaces via an app."
Nomatime existed for about two years. "I'm glad we took that plunge. If you have something in mind, you should just go for it. It was a good example of 'successful failure'. We learned so much about the market, with only limited resources. It was striking to see how much you could do as a startup with so little money. Our tool seemed very professional, but in reality, we were entering everything manually in our back-office. Not everything is as digital as it seems."
Dann really enjoyed it. He participated in several startup projects targeting 'smart homes' and 'smart cities'. One of those projects was Nuvonet, a smart city-platform from Fithplay. "Nuvonet is a virtual platform that connects citizens, municipalities and local authorities. Via the platform, citizens can use several services: from making a doctor's appointment to ordering bread from the local bakery. But you can also link it to your blood glucose monitor so that that information directly reaches your doctor, for example."
Back to Telenet
In 2014, he altered his course again. "I got in touch with Inge Smidts who was looking for someone to strengthen the 'product team'. After some interesting discussions, I realized that Telenet was still as ambitious as before. At the same time, it was a completely new chapter for me: a new CEO and almost an entire new Leadership Team. Yet, somehow, it felt familiar. I was most impressed with the talent within my team."
Today, Dann is responsible for our product platforms such as Yelo (the app that allows you to watch live tv, wherever you are), the new digibox (with quite some new features) that is currently being tested and the smartest wifi-network. In addition, his team also manages the delivery of all commercial projects in the residential market.
"You can compare it with building a house: the architect draws a design and the contractor starts working on it. Our Product Managers are the architect and think of new products. The Project Managers then ensure that those ideas are being executed correctly. Both are supported by the colleagues of our 'Customer Journey team' who ask the question 'how will our customers experience this?' at each decision point. This way, we always go for an amazing customer experience."
Don't let go of your dreams
Dann went to the Cadettenschool in preparation of the Royal Military Academy because he always wanted to be a military pilot. However, a medical disapproval shattered his dream… Yet, a few years ago, he obtained his license. "And now I'm up in the air almost every weekend! As soon as the weather's good, I'm flying around in Belgium or our neighboring countries."