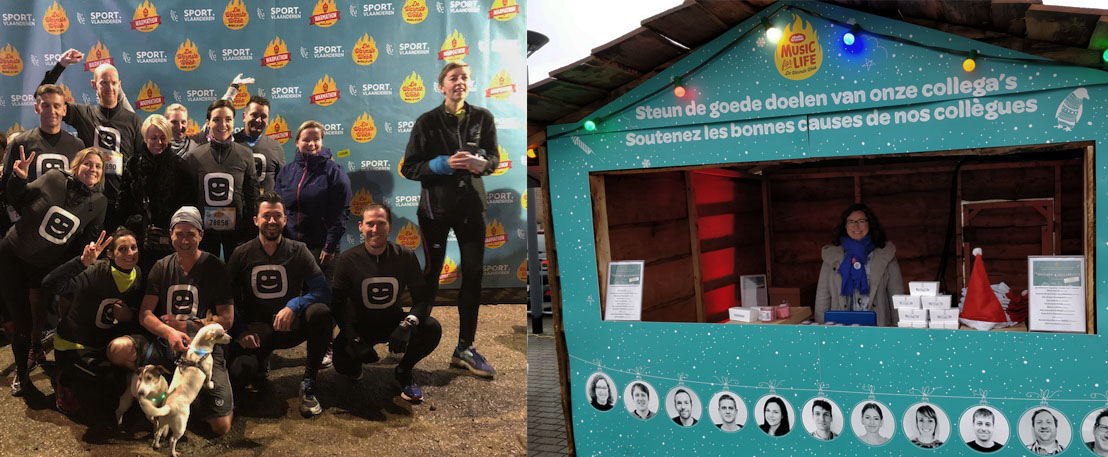 Why stimulating community engagement of employees gives the corporate culture a real boost
It was another record-breaking year for 'De Warmste Week'. There is no doubt about it: people in Flanders have a big heart for the community. 'Viva for Life', the equivalent in the French-speaking part of the country, was a great success too. People all over the country did their bit in the dark days before Christmas with all sorts of fundraising events for charity. Telenet followed suit. But the community engagement of our people does not stop after December. All the year round we work together to support social causes that are close to our hearts. And it pays.
Fundraising events for 'De Warmste Week' and 'Télévie', running and cycling for Kom op tegen Kanker and Big Ride for Africa, coaching children and youngsters for Coderdojo Belgium and ToekomstAtelierdelavenir, or helping to rebuild the telecommunications network in Puerto Rico in the wake of Hurricane Maria: these are just a few examples of the social initiatives in which Telenet employees are engaged with great enthusiasm.
For Telenet, supporting social causes is more than a tradition: it is a fundamental part of our corporate culture, and we are only too glad to facilitate it. Encouraging the community engagement of employees offers tremendous added value, both for the non-for-profit associations which with our support are able to further strengthen their activities, and for our own organization. The community engagement of our people epitomizes the mission and values that we promote as a company.
Making a difference together
Every Telenet employee is given the opportunity one day a year to do paid voluntary work in one of the societal projects for which Telenet provides structural support. In 2017, Telenet employees did 2,232 hours of voluntary work. Together, we raised 70,000 euros for community initiatives.
There is a reason why we have a long-standing tradition of supporting social work. Our support for societal projects helps our organization to become more firmly embedded in the local community and strengthens our involvement in what is happening in the society in which we play an active part. But it also directly benefits our employees.
The annual Volunteer Impact Survey by Deloitte shows that corporate volunteering has a positive impact on staff morale and that it gives the corporate culture a real boost: people who are given the opportunity by their employer to dedicate themselves to a good cause have a positive outlook on life, and are passionate and enthusiastic. They gladly work to make a difference, also in their job. This in turn leads to higher productivity.
Community engagement also strengthens the feeling of togetherness in a company. Co-workers from different teams and departments get to know each other better and appreciate and trust each other more. This helps to strengthen the team spirit.
Discovering and developing new talents
And even much more. Setting up a fundraising project not only involves working together with others and problem-solving thinking, it also requires good communication skills and excellent leadership skills. It means that by becoming actively engaged in a community initiative, employees can discover new talents and hone their skills. For that reason, volunteering is an important part of the growth and development trajectories of employees. This also applies to Telenet.
Finally, community engagement also helps to give meaning and purpose to one's daily work. Employees appreciate it when a company gives them time and scope for projects and initiatives that go beyond the immediate business interest. It also makes them feel that their job matters, that they can play a meaningful role as employees, and that they can get things moving as individuals and as a team. This is precisely what Telenet wholeheartedly goes for.