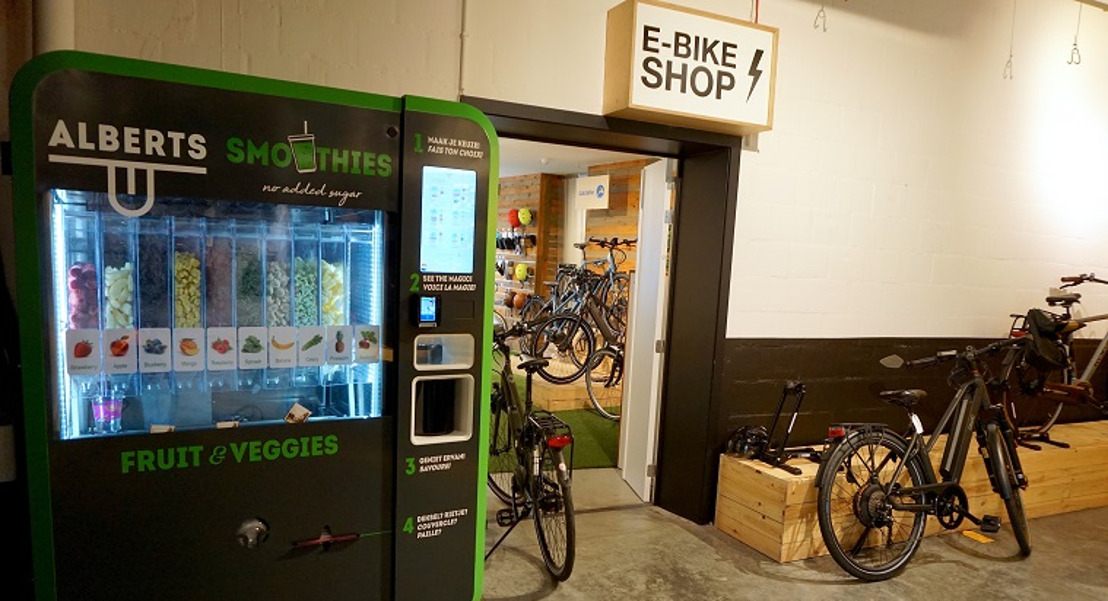 Will 2019 be the year of challenge for Internet of Things?
More than six months ago, we launched our Internet of Things (IoT) solution, 'Telenet Tinx'. Apart from the many new insights we have gained, there clearly still remains much work to be done. Although IoT is steadily gaining ground in industry and society, we still face major challenges in 2019.
Over the past six months, we have been working on a number of interesting projects with Telenet Tinx. For example, we are developing an application for Brussels South Charleroi Airport that is designed to give travelers the smoothest possible experience. Soon they will know exactly when they have to leave home to go to the airport or where they can easily park their vehicle, and what direction they need to follow once they are at the airport.
We deliver the connectivity for Alberts, a start-up, that developed the first automated smoothie machine. This uses fresh fruit daily, keeps a close watch on the temperature, and gives a warning when there are problems that could affect the freshness of the fruit. We are also working together with Leuven-Limburg University College and the City of Hasselt on the project of air pollution detectors. Those detectors continuously measure and analyze the air quality in the city. This allows Hasselt to take measures in places where air quality is poor.
The right match
These are all highly diverse IoT initiatives that show their relevant impact for businesses, their customers and society in general. Nevertheless, we are facing certain challenges when it comes to making those initiatives into a success, rolling them out further and getting them implemented on a larger scale.
First of all, we believe in the development of a 'partner ecosystem'. With Telenet Tinx, we provide an open platform onto which devices can be connected, and we oversee the security of the IoT network. However, we believe that not one company possesses all the knowledge. Different organizations have different needs, to which different IoT partners can offer the right answers. It is always a matter of finding the right match: which partners help best to meet the needs of a particular customer. Working together is the key.
Talking to each other
In addition, there is an urgent need for a standardized ecosystem. IoT must evolve towards a situation where all players can mutually make use of a standardized architecture. At this moment there are still too many different data protocols and devices that cannot communicate with each other or with a central platform. At the same time, new ones appear on the market every day. This makes it all a highly complex business, and opportunities are missed. A few international developers are now working under the Open Connectivity Foundation on a universal language for IoT.
Besides this technical standardization, it is also important that the staff of the organization are involved in the implementation of Internet of Things in the company. Why should they trust the technology if they don't see the point of it or do not know what's behind it?
Security
A third and perhaps the most important challenge remains security. Nowadays a simple firewall is no longer enough. Experts of market research firm Forrester predict that cybercriminals will be focusing on smart cities in the coming year. This development brings with it a large number of new connected devices, such as smart lighting or traffic lights that can be exploited by criminals. Therefore it is more important than ever to invest sufficiently in the security of IoT systems. In addition to a layered approach where everyone - government, industry and consumers - adopts a more responsible attitude to Internet security, ready-made solutions can make things a lot easier for organizations in the area of security.
Only if we address those challenges will Internet of Things really take off in Belgium, with a more intensive use of smart devices and sensors in industrial and home applications. Clearly, the possibilities of Internet of Things are endless and potentially offer many benefits to society and the individual. It is up to us to further explore and expand those possibilities. And it is up to industry, government and consumers to be less reluctant to embrace those applications.